Banned! Diddy Barred From UCLA Team Events In Wake Of Arrest PLUS More Details On The Wild Fight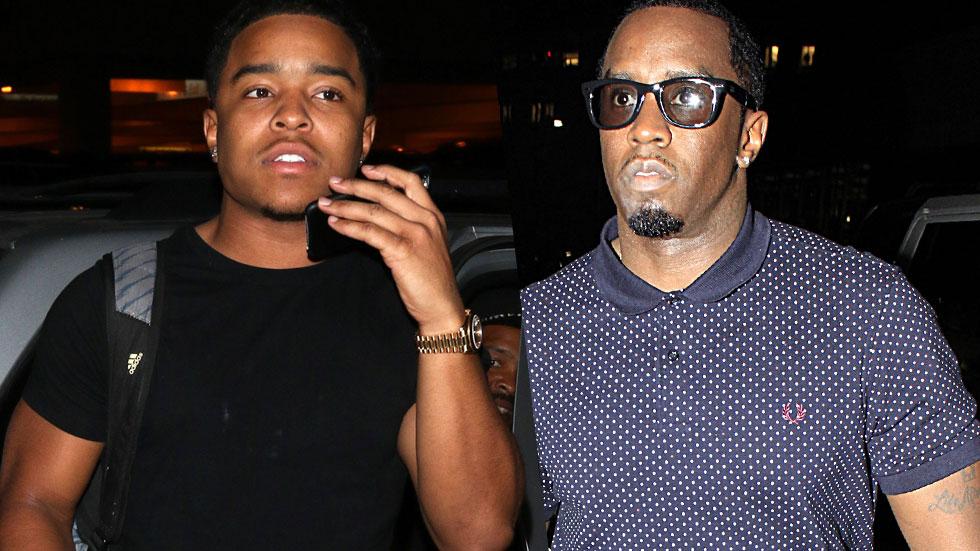 Rapper Diddy was released from police custody Monday following a violent confrontation with UCLA strength and conditioning coach Sal Alosi. But the fallout from the wild scuffle is just beginning. RadarOnline.com has exclusively learned that Diddy has been banned from attending all team-related events on campus, and his son, Justin Combs, has been forced to sign an agreement that puts his own future with the team in question.
Article continues below advertisement
Sources at the UCLA athletics department told RadarOnline.com new details of what sparked the spat on Monday afternoon. According to an insider, "Sal had kicked Justin out of practice because he had missed some recent sessions. This angered Justin, and along with his father, Diddy, he confronted Sal in his office after practice. Sal made it clear he wouldn't be talking to Diddy, that it was an issue between the player and his coach. Who brings their father on campus to confront a college football coach?"
"Sal was on the phone, and by this time, Diddy was absolutely going nuts," the source said. "Threatening that Justin would transfer to another school, and cussing up a storm. It was so inappropriate. Sal told Justin to get his dad out of the building, and that is when Diddy lunged at Sal."
"Several other people, including student interns, got Diddy out of Sal's office. Diddy then went into the weight room, grabbed a kettlebell weight, and started swinging at people in the direct vicinity. UCLA campus police arrived immediately and took Diddy into custody. Diddy was yelling and screaming the entire time, and Justin had to be restrained by members of the coaching staff when his dad was handcuffed. It was a very serious situation."
Article continues below advertisement
The 45-year-old rapper was released from custody hours after he was arrested, police said, adding that he paid $50,000 in bail, despite reports stating the total was $160,000. UCLA initially stated that the rapper was taken into custody in connection with assault with a deadly weapon, but authorities with the LAPD later stated the charges included three counts of assault with a deadly weapon, and individual counts of battery and making terrorist threats.
Diddy has since been banned from team events, said the source, but meanwhile, Justin's own future with the team could be in jeopardy.
A defensive back, Justin hasn't started one game in three years with the team, and has only played in seven games total in that time. He had one tackle in the win against USC.
Before Justin is allowed to practice again, "He will be forced to sign an agreement stating he will show up to all football practices, weight training sessions, and team meetings," the insider said.
"Head Coach Jim Mora is absolutely outraged that members of his staff were assaulted by a player's father. He is so angry he can't see straight," said the source. "Coach Mora is extremely protective of his players and staff, and doesn't tolerate this kind of behavior. He doesn't care that Justin's dad is a huge celebrity. None of that means anything to him."
Story developing.