Exclusive
Demi's Done Dating! Why Middle-Aged Moore Tells Friends She's 'Given Up On Men' & 'Wishes She Never Left Bruce'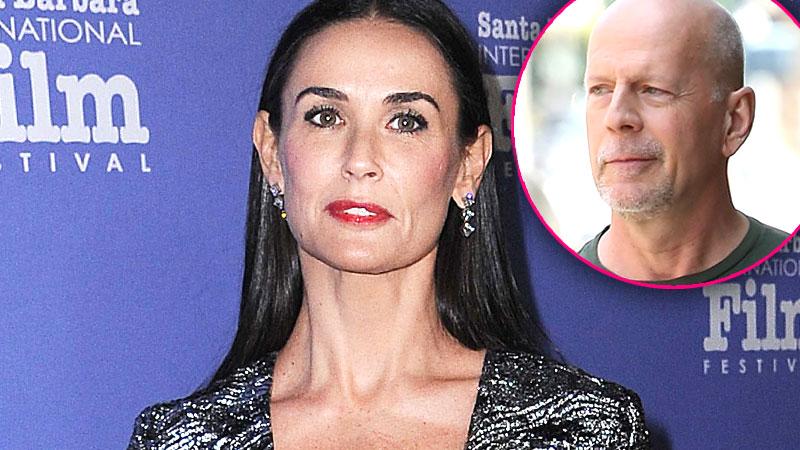 After bouncing from boytoy to boytoy in recent months, Demi Moore is single once again. However, according to a close friend of the middle-aged mother of three, she is definitely NOT ready to mingle!
In March, Moore, 52, sold her NYC penthouse for $75 million that she bought in 1990 and shared with husbands Bruce Willis and Ashton Kutcher. After her decision to close that chapter of her life for good, a longtime friend of the actress tells RadarOnline.com exclusively, "Demi has pretty much given up on men!"
Article continues below advertisement
In 1996, Moore was named the most beautiful person in the world on the cover of People magazine and, during that time while promoting her sexy hit film Striptease, Moore said, "I've got to show my goodies!"
However, after three failed marriages and countless broken hearts, Moore's statement no longer applies, apparently.
"She is very single and very lonely right now," the insider tells Radar.
When Moore's decade long marriage to much younger husband Kutcher ended in 2011 over Kutcher getting caught cheating on her while on vacation, Moore headed into a downward spiral, which ultimately led to her checking into rehab.
Kutcher is now happily recoupled with Mila Kunis, who he reportedly considers to be his soul partner and, after the couple recently had a daughter together, Moore has seemingly lost hope, according to the source.
"After Ashton, Demi feels that she is not going to ever really find that connection again with another man," says source. "Part of her wishes that she never left Bruce Willis."
"People try to set her up on dates and such, but she is just kinda over it at this period of her life," the friend adds.
"Perhaps that will change but it won't happen by her choice."
Do you think that Demi Moore should give up on men? Tell us your thoughts in the comments below.