'We Will Catch This Individual': Police Vow To Capture Hate Crime Shooter Who Killed 9 In South Carolina Church Rampage –– 6 New Developments In Shocking Massacre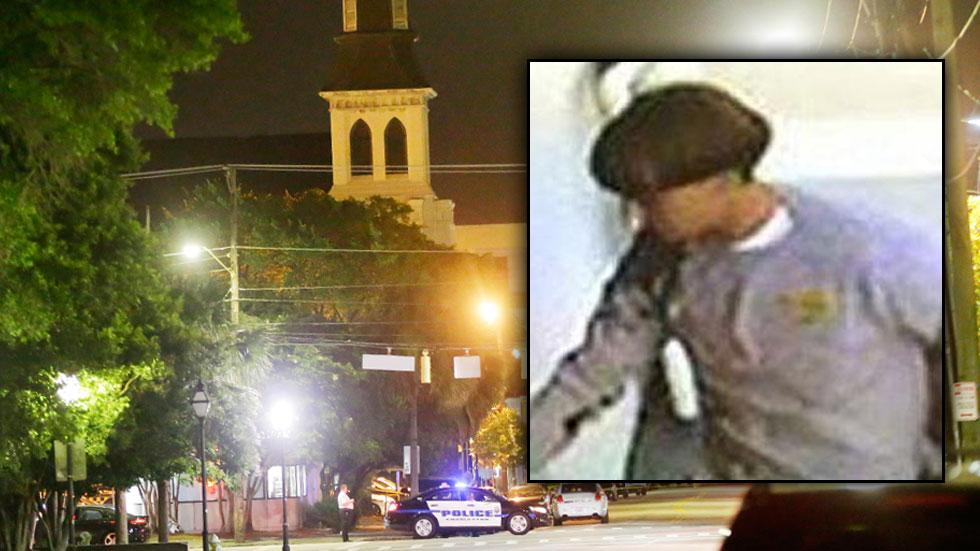 The white gunman who killed nine people a historic black church in Charleston, S.C., in what police are describing as a hate crime, remained at large Thursday.
Manhunt Commences
Authorities form both local agencies and the FBI were searching for gunman seen in a surveillance photo, described as an armed and dangerous white 21-year-old with a bowl cut, a slight build, wearing blue jeans and a grey sweatshirt, Charleston Police Chief Greg Mullen said, adding that he was driving a black sedan. Mullen said, "We do not want more people harmed to approach him or follow the vehicle -- because of the pain and the hurt that this individual has caused this community, this entire community ... we will catch this individual." Mullen added, "This is a very dangerous individual -- we want to identify this individual and arrest him before he hurts anyone else." While authorities initially believed they had caught the shooter with the use of a police dog, the suspect escaped. Mullen pledged authorities "will put all effort ... will put all resources and ... all of our energy into finding this individual who committed this crime tonight." An image of the suspect was released by authorities early Thursday, and anyone with info on the rampage was encouraged to contact call Crime Stoppers at 843-554-1111.
Article continues below advertisement
Watch the video on RadarOnline.com
More On The Massacre
Police said that the shooting took place as a prayer meeting was going on at 9:05 p.m. Wednesday at the Emanuel AME Church, with eight people found dead at the scene and another pronounced dead at a nearby hospital. Six of the victims were women, and three were men, officials said. According to police, the shooter showed up at the church about an hour before the attack, asked for the pastor, State Sen. Clementa Pinckney, and sat next to him during a Bible study session. Pinckney's cousin Sylvia Johnson, who spoke with a survivor of the massacre, told WIS-TV, "At the conclusion of the Bible study, from what I understand, they just start hearing loud noises ringing out and he had already wounded ... the suspect already wounded a couple of individuals." The Emmanuel AME church dates back to 1816. The scene of the deadly rampage was founded in part by a slave revolt organizer named Denmark Vesey, whose own church was burned to the ground by white landowners in retribution for his efforts.
Links To Hate Groups
The gunman -- who reloaded five times during the rampage -- told the churchgoers, "You rape our women and you're taking over our country, and you have to go," Johnson said, citing the survivor's account. The nature of the crime spurred speculation there might be ties to the Ku Klux Klan, as watchdog organization the Southern Poverty Law Center said they're aware of 19 racist factions in the state. Police said Thursday that no group had been directly connected to the shooting. Political group SC Equality said that South Carolina is one of five states that has no hate crime laws on the books, but federal policies provide protection to victims of the acts.
Article continues below advertisement
Victims Remembered
State Sen. Clementa Pinckney, the 41-year-old pastor of the Emanuel African Methodist Episcopal church, was killed in the massacre, according to State House Minority leader Todd Rutherford, who hailed the late father-of-two for his character and contributions to the community. "He never had anything bad to say about anybody, even when I thought he should -- he was always out doing work either for his parishioners or his constituents -- he touched everybody." Gov. Nikki Haley, urging prayer for the dead and their survivors, said, "We'll never understand what motivates anyone to enter one of our places of worship and take the life of another." Pinckney made history in 2000, becoming the youngest black member ever of the South Carolina senate at 27. Rev. John Hall Brown, a close friend of the murderer religious leader, said that Pinckney "knew the church" and "grew up in the church" and was especially effective connecting with "the young people" in the congregation. He told the TODAY Show that he ties the incident to the ongoing epidemic of gun violence: "When you look at America, America has this great love affair with guns, and anybody can get them -- Whether they're mentally disturbed, whether they're crazy, whether they're part of a hate group -- let's get 'em a gun. Everybody has a gun, and nobody wants to police it or reign it in."
Watch the video on RadarOnline.com
Walter Scott Connection
In the wake of the Apr. 4 shooting of an unarmed black man by a police officer, Pinckney, a Democrat, had endorsed a bill in South Carolina that would have mandated all officers to wear body cameras. He said, "Body cameras help to record what happens. It may not be the golden ticket, the golden egg, the end-all-fix-all, but it helps to paint a picture of what happens during a police stop."
Community Reacts
Charleston Mayor Joseph P. Riley -- calling the incident "the most unspeakable and heartbreaking tragedy" and a "dastardly act that one could possibly imagine" -- vowed to seek justice for the perpetrator of the heinous act of racism. "This is one hateful person ... the only reason that someone could walk into a church and shoot people praying is out of hate," Riley said.