Family Divided! Pat Houston Told Bobby Brown 'Pull Plug' On Bobbi Kristina, Claims Aunt -- 'It's Costing Too Much Money To Keep Her Alive'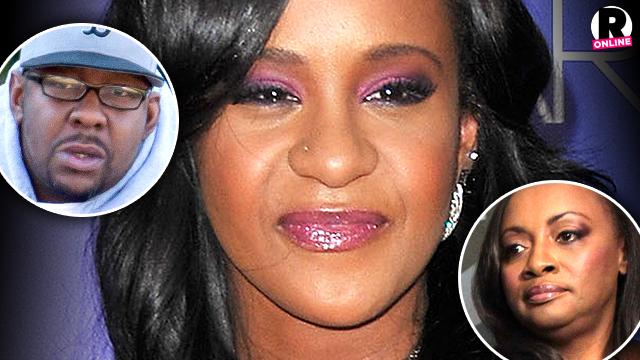 The battle over Bobbi Kristina Brown is heating up and the Brown family means war!
Bobbi Kristina's aunt, Leolah Brown, slammed legal guardian Pat Houston on Facebook today, claiming that she told father Bobby Brown, "why don't he just pull the plug on Bobbi Kriss, because it's costing too much money to keep her alive!"
In a long rant, Leolah also wrote that Pat Houston born Patricia Garland "did have that nerve to say that to Bobbi Kristina's father Bobby. It was her, Pat Garland, the one & only who had the big balls of such an idea!"
Article continues below advertisement
"Of course, Bobby's response to Pat was, 'I don't give a dam how much money it takes to keep my daughter alive! It's not about the money! I will do what I have to keep my daughter alive!,'" she wrote.
Although Bobbi Kristina's grandmother, Cissy Houston, says that her granddaughter is on life support and has shown no signs of improvement, Leolah begs to differ.
"BOBBI KRISTINA BROWN IS 'NOT' ON LIFE SUPPORT ANYMORE AND SHE HAS SINCE THE BEGINNING AND IS CONTINUING TODAY TO IMPROVE. AND WE WILL NEVER GIVE UP ON HER! HELL NO! NOT ONE BROWN!," Leolah wrote.
Among her outrageous claims, Leolah also alleged that Bobbi Kristina "hates Pat for what Pat has done to her and her mother...just like the rest of us WHO TRULY LOVED WHITNEY."
"If Pat knew The God that I know, instead of trying to inherit my niece's money for her personal gain, she would mind her own business and go find A JOB for herself without continuously working so hard to destroy my niece, beg her for money and get angry when she cannot get it! She would stop using the Houston name for her personal agenda," she wrote.
She added, "If anyone could turn in their grave it would be Whitney Houston! Pat has NO RIGHT WHATSOEVER to be anywhere near my niece's Estate!"
Leolah hinted she has much more to say, however: "This ain't nothing! There is so much more to come!!!"
Story Developing.
Do you think that Leolah Brown was wrong for what she said? Tell us your thoughts in the comments below.