Exclusive
From Housewife To 'Hot Body' Prison Babe! Inside Teresa Giudice's Prison Transformation & Why 'No One Will Mess With Her'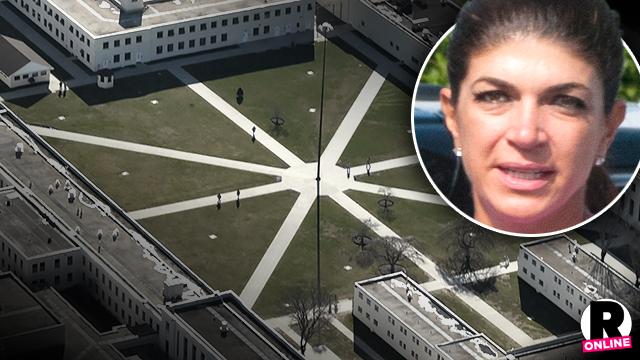 Being locked in prison is no vacation, but it definitely does a body good! Former Real Housewives of New Jersey star turned inmate Teresa Giudice has undergone a full-body transformation since surrendering to the Danbury Federal Corrections Institute earlier this year. And an insider tells RadarOnline.com that her body is so hot, fans might not recognize her when she gets out!
"Teresa's body is sick now and she is all muscular," the insider tells RadarOnline.com exclusively.
Article continues below advertisement
The former reality star "is working out after every single meal now, religiously," according to the source.
"There is a little gym at the camp and there are also exercise videos she has been doing. There is also a track to walk and jog, bikes and treadmills."
Giudice, who is currently serving an 18-month prison stint in Connecticut on multiple counts of felony fraud, "is currently working a super cushy job wiping off tables in the kitchen," says the source.
"Everyone wants that job and she has it, so obviously she has gotten heat about it," the insider says.
"But Teresa did not choose that. She was assigned that and a counselor had to approve it. Someone must have gone to bat for her in there."
Still her fellow inmates aren't giving her a hard time.
"Because she is such a hard body babe now, no one will mess with her!" the source adds.
"The other prisoners are finally giving her space and letting her do her thing now, which is a huge change from how they were towards her in the beginning. She has proven herself and has the muscles to show it."
Joe Giudice, 43, Teresa's husband, was sentenced to a 41-month prison sentence following her release to accommodate the couple's four daughters Gia, 13, Gabriella, 8, and Audriana, 5.
Do you think that Teresa Giudice is holding her own inside of prison? Tell us your thoughts in the comments below.