Exclusive
Teresa Betrayed! Joe Giudice Dating A Younger Woman While His Wife's In Prison — 24 Undeniable Photos Of Their Rendezvous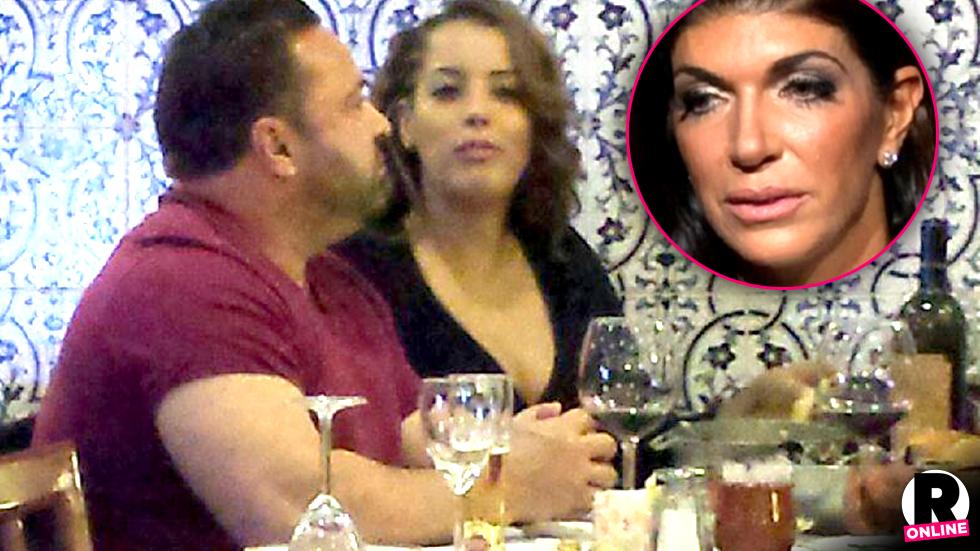 Article continues below advertisement
Eyewitness Stephanie Palacios, 25, spotted Joe and his younger woman dining with another couple at Seabra's seafood restaurant in Newark, NJ, on Wednesday, April 29 at 8:30 p.m.
According to Palacios, the group downed red wine and Joe "looked to be having a good time, having a conversation and laughing" with a sexy brunette.
"The way he and his date were conversing, you wouldn't talk that way to a family member or friend," Palacios said. "Even my boyfriend thought something was going on. They had chemistry."
"They didn't touch, but they were sitting close together and he seemed to be listening intently to whatever she said. I thought maybe the couple across from them set them up on a date."
Who was Joe's other woman? "She was thin, brunette with blonde highlights, and had braids in her hair," Palacios revealed. "She looked to be in her late 20s or early 30s, definitely young. My first thought was, 'What the heck is she wearing?!' She had tight jeans and a half shirt in a restaurant! And her cleavage was out. It was inappropriate."
MORE ON:
The Real Housewives of New Jersey
Article continues below advertisement
By 10 pm, the restaurant was emptying out, but Joe seemed eager to keep the night going. "They were still hanging out and talking," Palacios said. "Didn't seem like they were getting ready to leave soon."
Now, Palacios said, she's speaking out to warn Teresa — who she's met before at New Jersey events — that her husband is hardly on his best behavior while she's away doing time.
"Teresa should be upset," an indignant Palacios insisted. "You can tell if someone is just a friend, but it wasn't like that. They had chemistry, they were a couple."
"You would think that while he's in jail, especially on a weekday, shouldn't he be home with his kids?" she continued. "Maybe it's true that he really isn't around much. She's in jail, and he's out having fun with another woman."
As RadarOnline.com reported, Teresa recently met with divorce lawyers behind bars, according to a fellow inmate.
Do you think she should split from Joe for good? Let us know in the comments!
Watch: Joe Giudice Dating A Younger Woman While His Wife's In Prison