Nick Loeb Shockingly Accuses Sofia Vergara Of Physically Abusing & Bullying Him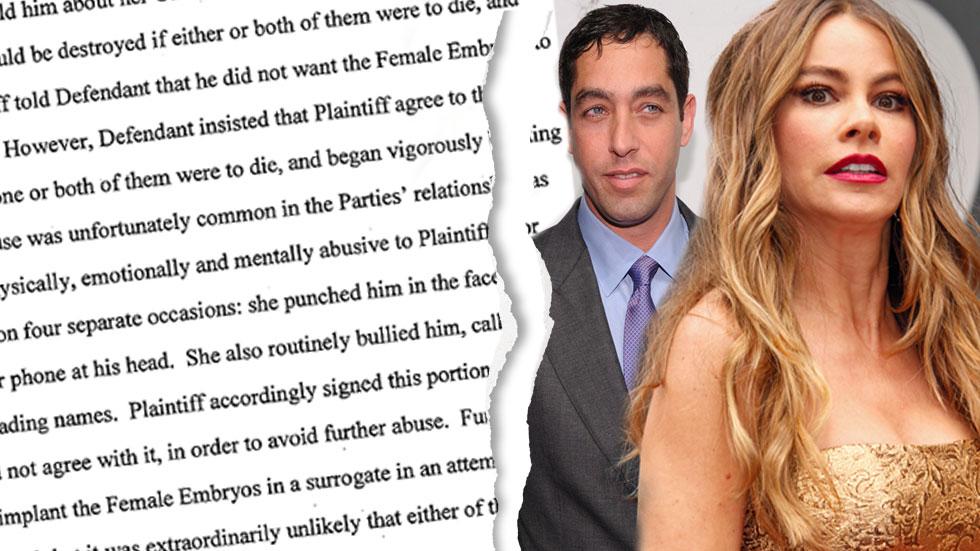 Article continues below advertisement
In newly released court documents, filed in August 2014 and acquired by RadarOnline.com, Loeb levels shocking claims against the beloved sitcom star, stemming from a November 2013 incident in which he said she "began vigorously berating" him after he questioned her signing of a document that stipulated that the embryos were to be thawed should one of them die.
"Such abuse was unfortunately common in the Parties' relationship, as Vergara was on many occasions physically, emotionally and mentally abusive to Loeb," read the documents. "For example, she physically abused him on four separate occasions: she punched him in the face on two occasions, kicked him, and threw her phone at his head."
Loeb said that the Colombian stunner "routinely bullied him, calling him a 'loser,' 'worthless,' and other degrading names" during their ill-fated relationship.
Road To The Altar! Sofia Vergara & Joe Manganiello's Wedding Plans Revealed –– 15 'I Do' Details
Loeb said he signed that document in question, "even though he did not agree with it, in order to avoid further abuse."
Despite the allegations, an insider told Radar, "Sofia never got physical with Nick, it just didn't happen... Did they fight? Yes, and a lot, which is why they broke up. But to portray it as Sofia being mentally abusive towards Nick is reckless, and just not true."