Still-Married Rosie O'Donnell Having Sixth Child With Pregnant Girlfriend Sophie B. Hawkins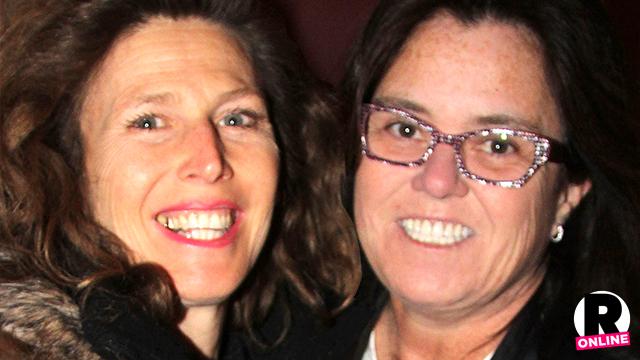 Former TV host Rosie O'Donnell is set to welcome her sixth child with her new squeeze — singer and songwriter Sophie B. Hawkins.
"Rosie's been attending Sophie's concerts at least since the fall," according to a source.
Grammy-nominated Hawkins, who announced her pregnancy in February, looked at least four months along at an April 30 gig at New York City's Rockwood Music Hall Stage 3, an eyewitness told The National ENQUIRER.
Article continues below advertisement
O'Donnell — embroiled in a bitter divorce and custody battle with Michelle Rounds — didn't look "worse for wear at Sophie's show," said our on-site spy. "She looked like she was having a good ol' time!"
The comedian caught Hawkin's show with four female friends, and seemed to take a veiled dig at her soon-to-be ex-wife, said the onlooker.
"Right after Sophie sang, 'I can't replace you. I'm better off without you,' Rosie boisterously yelled out from her perch at a stage-left table, 'I agree!'"
Afterward, the loved-up pair left together in a black SUV.
As RadarOnline.com reported, 53-year-old O'Donnell left her co-hosting gig on The View on Feb. 12, and filed for divorce from Rounds on Feb. 27, although the couple actually split late last year.
In early March, O'Donnell and Hawkins, 50, "were all over each other" at the Broadway play "On the Twentieth Century," divulged another insider.
O'Donnell kept the romance on the down-low to avoid complicating her divorce proceedings, sources said.
Article continues below advertisement
Meanwhile, Rounds, 44, has been snapped stepping out with model and TV personality Carmen Ortega.
Hawkins — whose hit "Damn I Wish I Was Your Lover" was a 1992 chart-topper — revealed she'd used one of 15 embryos she froze at 31. The singer has a 6-year-old son, Dashiell.
Rosie already has three daughters and two sons.
A source exclusively told The ENQUIRER: "Sophie has told friends 'on the QT' she is with Rosie, and those close friends say they are having the kid together."
As RadarOnline.com reported, O'Donnell's estranged wife Rounds spoke out and slammed her ex's parenting, saying that their daughter Dakota has "24/7 nannies" while she's with O'Donnell and that her discipline is non-existent.