Mother's Day Shocker: NeNe Leakes Reveals Reason Behind Her Reunion Meltdown –– 'My Mother Abandoned Me'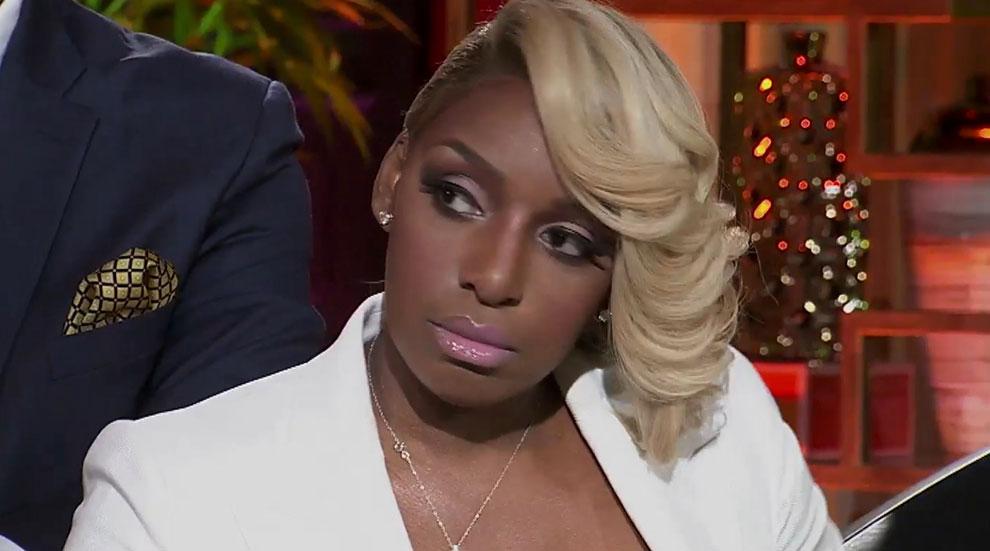 NeNe Leakes bared her pain over her mom's abandonment on Sunday's reunion finale episode of the Real Housewives of Atlanta, which aired on Mother's Day.
The normally tough-as-nails Bravo star was reduced to a crying, trembling wreck as she walked off the reunion set, whispering, "I can't talk about my mom."
Listen! 'RHOP' star Wendy Osefo breaks down the "most intense fight in the show's history" in under 2 minutes.
Article continues below advertisement
RadarOnline.com previously reported that Leakes had stormed out of the reunion but on Sunday's episode, viewers finally saw the entire meltdown.
It happened after Dr. Jeff Gardere joined the reunion show with host Andy Cohen and Leakes told him why she'd left his therapy session for the housewives this season.
Watch the video on RadarOnline.com
Leakes felt Dr. Jeff had been unfair by asking the others, "What is your problem with NeNe?"
Leakes explained, "I never want to be a victim. I'm a strong woman. My mother didn't raise me. My father never claimed me. I have been lied to; I have been cheated on; I have been in abusive relationship, but everybody else got to be like, 'I've been bullied, my mom was never there for me, my brother died.'
"Everybody else had all these issues that caused them to feel this way whenever I was in the room, but I was never that person who had any kind of issue myself. I never had anything. I did not like that."
Article continues below advertisement
Dr. Jeff said, "I knew about your issues of abandonment … you felt betrayed," but had expected she would tell her co-stars her feelings during therapy.
Other housewives wished Leakes had opened up earlier, but Porsha Williams said everyone had started to "pile up" on Leakes, making her defensive.
However, Burruss insisted that Dr. Jeff had said he was there to represent the whole group and Leakes got angry right away.
As the others shouted back and forth, Leakes suddenly began to cry and shake.
"We need to listen to what NeNe has to say right now," Dr. Jeff said, but Leakes whispered, "I don't have anything to say."
Cynthia Bailey told Leakes she was proud of her because she had achieved so much without having a mother's support, while Kenya Moore (who also was estranged from her mom) said they had a lot in common.
Article continues below advertisement
But none of this helped as Leakes kept sobbing, then stood up and said, "I can't talk about my mom!" while clinging to Dr. Jeff.
Williams, Bailey, and Parks walked off the set with Leakes, where her husband Gregg Leakes gave her a hug.
While Leakes recovered her composure in the bathroom, Gregg told Cohen that Leakes' mom had five children when she was very young and couldn't raise them all, so NeNe was sent to Athens, Georgia, to be raised by her aunt.
"She has always wondered why she had to be one of the ones sent away -- it's bugged her all her life," Gregg told Cohen.
Leakes eventually returned to the set and told Cohen, "I'm good."
But her leg shook uncontrollably as she said, "Maybe I have been misunderstood somewhere along the line … people think I haven't been through anything in my life. It's just really hard to talk about my mom."
Cohen asked Bailey about frenemy Leakes and she said "What I saw was my ex-friend having a real moment -- NeNe is a survivor."
Article continues below advertisement
Moore said she was showing strength by finally showing her vulnerability.
In the end, Leakes felt the reunion was healing and that she and the other Atlanta gals "share a sisterhood."
Earlier, however, tempers had flared when Bailey's husband Peter Thomas suggested everyone owed Moore an apology over the Apollo Nida issue.
Also, Thomas had been accused of cheating on Bailey -- but joked that if he cheated, it wouldn't be with a barmaid but with someone like J. Lo or Beyonce!
Then in a heart-rending reunion moment, Burruss's husband Todd Tucker got teary-eyed about the December death of his mother, Sharon Wells, from a stroke.
He recalled calling and calling his mom and getting no answer. Tucker finally reached a friend who checked Wells' residence and "she found my mom on the floor."
Burruss and Tucker said the ordeal had made their marriage stronger, even though he complained again about how their prenup was handled.
Article continues below advertisement
Cohen asked a very cleavage-heavy Burruss if she'd had a boob job, but the Kandi Factory owner denied it, laughing, "I've gotten fatter, period in the past couple of years," and saying she'd also gotten puffy while taking hormones in an attempt to get pregnant. (She and Tucker are still working on it.)
Leakes and Bailey also relived the end of their friendship, and the model was particularly mad Leakes had said she was expendable, with her infamous "Girl, bye!" comment.
Bailey accused Leakes of trying "to take food off of my table."
After a tense showdown, Leakes said, "I wish her well. That's it."
Viewers also learned about Leakes' health, which had prevented her from going on the housewives' trip to the Philippines this season: "I take a pill every day to thin my blood."
Season seven of RHOA ended with a group hug -- but fans won't have to wait long for more fussing and fighting, as Burruss and Tucker's new Bravo spinoff, Kandi's Ski Trip, begins airing next Sunday.