Exclusive
Butts, Boobs, & Bieber! Inside Floyd Mayweather's Plans For A Strip-tastic After-Party Following Manny Pacquiao Bout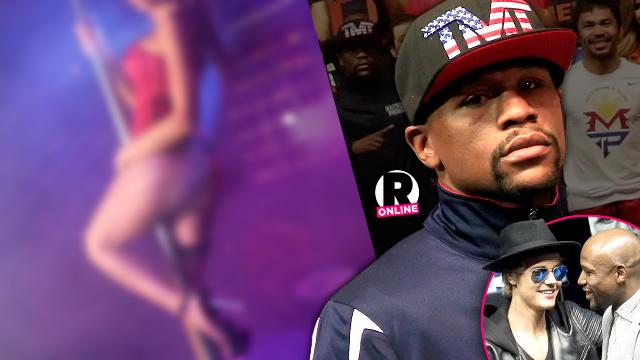 Win or lose, Floyd Mayweather is definitely going to have a good time following his history-making bout with Manny Pacquiao in Las Vegas tonight. A member of his entourage exclusively revealed the after-party plans to RadarOnline.com — and they're ridiculous!
Mayweather has already started getting supplies for the bash, the insider said: which means, singles wrapped in plastic and ready to be stuffed in lingerie.
Article continues below advertisement
"He has to make withdrawals from the bank in person and goes when the bank closes for security reasons," the source said. "He'll take out $100,000 every night like it's nothing to him. He's already put $250,000 aside, but will spend upwards of a million if he wins."
Among the expected guests are his pint-sized party pal Justin Bieber, and other luminaries who will be in Las Vegas for the fight — which could be one of Mayweather's last.
The showdown with Pacquiao tonight represents the second-to-last fight of the $200 million agreement he made with Showtime/CBS. There are already talks for a potential rematch in September.
Mayweather had previously intended to retire from the ring at the conclusion of his current six-fight contract, saying, "I only got two more fights left and after the next two fights I just want to build the Mayweather Promotions Brand."
Article continues below advertisement
But the source said it's all talk.
"Floyd is obsessed with money and the attention that comes with it," the insider explained. "He's fully aware he's in the twilight years of his career but there's still huge confidence in his ability to knock out opponents, so there's no reason why he shouldn't double his fortune.
"Floyd wants to push his luck and see how much more he can make from this hype," the source claimed. "is ego might not let him quit without reaching a landmark 50 wins as a pro either. Another long-term contract is too much to ask, but three fights is perfect." As such, the source said, another 18 months might not be out of the question.
Historically, Mayweather has fought in May and September each year, meaning his final fight will most likely be in Spring 2017, roughly two months after celebrating his 40th birthday.