'To Me, They Need To Be Axed' –– Mama June Shannon Fires Shocking Shots At TLC For Not Canceling '19 Kids and Counting' Following Josh Duggar Molestation Scandal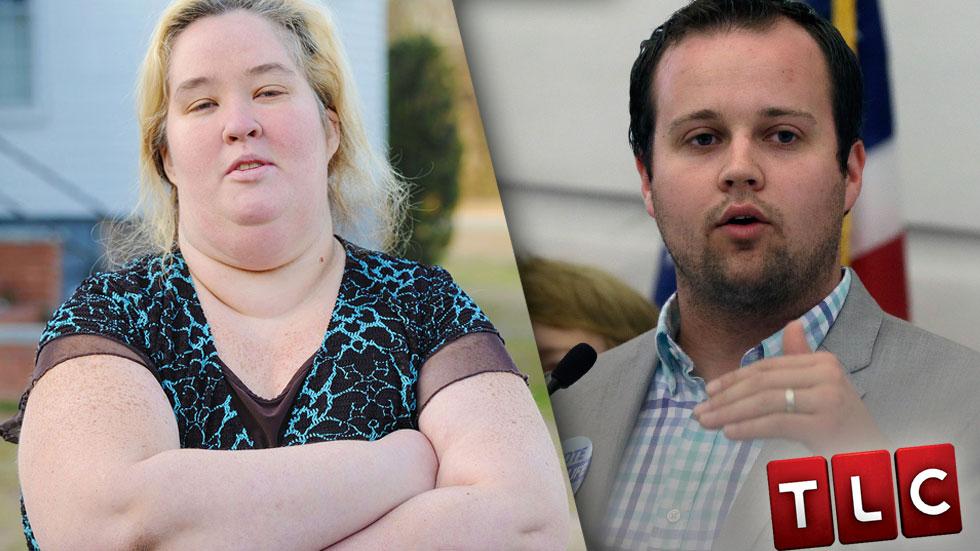 Mama June Shannon ripped TLC for not canceling 19 Kids and Counting following Josh Duggar's scandal, after her own scandal caused the network to act quick.
Then reality TV mother, whose show Here Comes Honey Boo Boo was cancelled last fall after she rekindled a romance with convicted sex offender Mark Anthony McDaniel Sr., told Extra she believes the network is operating on "a double standard" leaving the Duggars on the air.
Article continues below advertisement
"I'm not mad because they cancelled our show -- that's not what I'm mad about," she said. "But I believe it's a double standard that if they're gonna cancel our show because of rumors and stuff, that if they don't cancel their show, and he did a whole lot more horrendous stuff than I would've ever thought about with my children, that's just crazy."
Watch the video on RadarOnline.com
Mama June said that while she has nothing against the Duggars, the fact that they remain on TLC while she's off TV -- and not cashing any checks from the show -- frustrates her.
"I look at it this way: If you're gonna take a way one family's income 'cause of speculation and rumors, and I didn't even touch or molest anybody or have allegations against myself, and you're gonna blackball me and take away from my children's future, but you're not gonna take away from their family, come on now, get your priorities straight."
The 35-year-old Georgia native said she thinks the Duggars should be taken off the air after Josh himself admitted he'd "acted inexcusably" in his behavior as a teenager.