'Twisted' Love: The Secret Reason Why Kourtney Kardashian Will Never Leave Bad Boy Baby Daddy Scott Disick REVEALED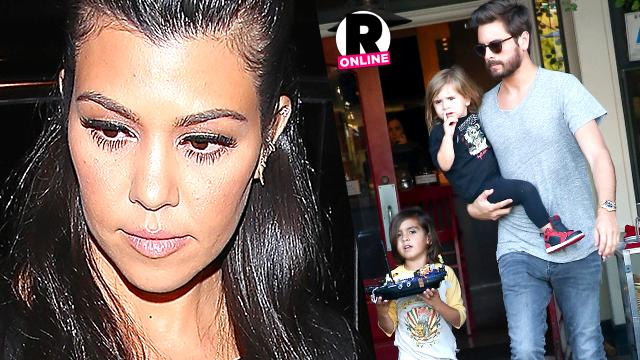 Kourtney Kardashian is not ready to be the next single sister. In the face of new reports about her bad news baby daddy Scott Disick's rampant partying and hookups with other women, RadarOnline.com has learned that there's a dark and "twisted" reason why insiders say she'll never leave him.
"Scott has been cheating on Kourtney for a long time," a source told Radar. "Everybody knows it, including Kourtney. But she is so obsessed with him that she turns a blind eye to it.
Article continues below advertisement
"And she's with him because of their children," the source added.
The reality couple, who've faced trouble in their relationship over the entrepreneur's continued hard-partying, have three kids -- Mason, 5; Penelope, 2; and Reign, four months.
And Disick's former BFF and manager David Weintraub recently gave a bombshell interview exposing the reality star's dirty little secrets.
Weintraub called his one-time party pal a "cokehead" who suffers from anxiety.
Even worse, Weintraub further alleged in a recent interview that Disick has cheated with "countless" women: "In Las Vegas about a year ago, Scott and the rapper Tyga were partying at a strip club," the manager claimed. "Scott was doing drugs and making out with the girls. Then he grabbed two strippers and went into the private room, where anything can happen."
According to Weintraub, Kourtney is fully aware of his sex on the side. "Scott says they have an arrangement, kind of an open marriage," Weintraub said. "When he's away, he can live the way he wants to live."
The insider agreed. "She knows that when he goes on personal appearances he hooks up with the groupies," the source claimed. "But she has him on a really tight leash because she feels like that can control him more. It's really twisted."
Will he clean up his act? The source said, "He's past the point of no return."