Exclusive
Goodbye To Grandpa! Kourtney Kardashian & Scott Disick Keeping Kids Away From Bruce Jenner Because They 'Refuse' To Discuss Transition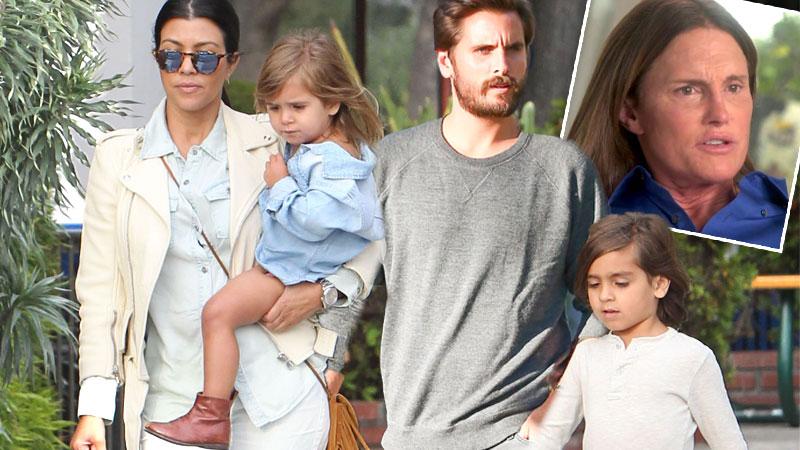 Bruce Jenner's transition has brought him closer to some family members as they offer support during the hardest period of his life. But while Kim Kardashian and others rally to his side, RadarOnline.com has learned that Kourtney Kardashian has been trying to keep her kids away from him — because she doesn't know how to explain the transition!
Among the many emotional scenes of the Keeping up with the Kardashians: About Bruce special was one where Kourtney Kardashian admitted she was struggling with how to tell her kids about . Months after filming, however, RadarOnline.com has exclusively learned that she and baby daddy Scott Disick still have not broached the subject with Mason, 5, Penelope, 2, and baby Reign.
Article continues below advertisement
An insider told Radar, "Honestly, Kourtney and Scott are not ready to tell Mason and they do not know when the time is right that they even want to talk to him about it. Penelope and Reign are still babies and will be much easier to get to."
"How do you tell a five-year-old that their grandfather is going to be their grandmother? Mason asks a lot of questions and he is super curious about what is going on," the source revealed, "but Kourtney and Scott have no idea how to approach this with him."
"In the meantime, they are not allowing their kids to be around Bruce because it is just too confusing to them."
In Monday night's episode, Kardashian, 36, explained, "We are waiting to see what Bruce does before we tell Mason. I definitely don't want him to find out, y'know, through someone at school or something like that. I want him to find out through us."
When do you think is the right age for Kourtney Kardashian and Scott Disick to tell their children about Bruce's transition to become a woman? Tell us your thoughts in the comments below.