Exclusive
'I Am Deeply Sorry:' The Man Who Killed Kim Richards' Fiancé Apologizes In Emotional Open Letter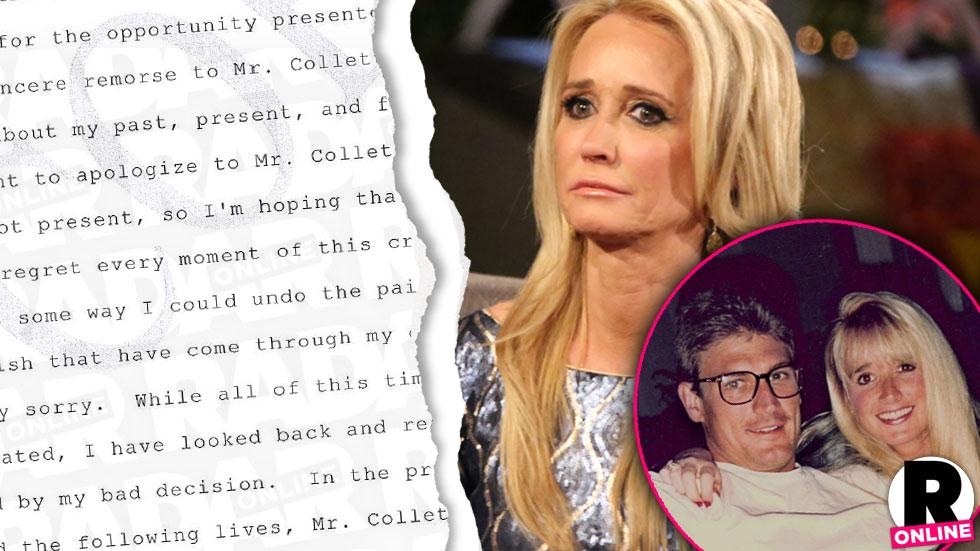 When the love of Kim Richards' life was brutally murdered just before their wedding day, the sudden loss tore her apart. Since then, fans of The Real Housewives of Beverly Hills have seen her struggle to cope through legal troubles and an ongoing alcohol addiction. Adding to her issues, the man who murdered her fiancé, John Collett, could soon be getting out of prison! But in a move that could help Richards heal from her deep wounds, the killer, Marva DeCarlo Johnson, is apologizing to the reality star for the insurmountable pain he's caused her – and RadarOnline.com has the exclusive open letter.
Article continues below advertisement
Five years ago, Johnson was first considered for parole, and even though he was denied his freedom at the time, according to the transcript obtained by Radar, he addressed Collett's family, including Richards, with seemingly heartfelt words – a message they may never have heard before from the man who brutally shot the then-29-year-old commodities salesman in cold blood 24 years ago.
"Thank you for the opportunity presented to me to express my most sincere remorse to Mr. Collett and his family, to speak about my past, present, and future. First of all, I want to apologize to Mr. Collett's family," Johnson told the Board of Parole in 2010 from California Medical Facility where he's been serving a 30-year to life sentence for first degree premeditated murder. "And they're not present, so I'm hoping that you accept that. I highly regret every moment of this crime. I wish there was some way I could undo the pain, the trauma, the anguish that have come through my grave actions. I am deeply sorry."
Article continues below advertisement
"Through all of this time of my life incarcerated, I have looked back and realize the damage I caused by my bad decision. In the process, I have affected the following lives, Mr. Collett's family, his wife or fiancé, his children, his brothers, sisters, and parents, on the other hand, my family and my community," he continued.
"I accept full responsibility of my criminal behavior," said Johnson. "For the past several years, I have dedicated my time to overturning the negative side of my past with positive achievements, and so far I have accomplished all my objectives. It is not been easy, especially by being in this situation."
"I know, well, I now understand nothing in life comes easy. It takes a big effort, sacrifice, and dedication, but most important, the contributions of a higher power, God. Because without God, I could do nothing."
"I dream of being reunited with my loved ones, but it's not something that I ever thought would happen," he added. "I killed a man, and God doesn't look at that in a favorable way."
"As for now, I don't desire to live -- as of now, I don't desire to live any longer for myself. I don't desire valuable material things. All the desires is sic to have a closer relationship with God and my family," said Johnson. "I am more than willing to serve my community and to share with the kids about the consequences of wrongdoing. I will be committed to support them educationally, recreationally, and become productive citizens in society, unlike myself."
"… I leave my future in your hands and the Authority's sic."
Do you think Richards should accept Johnson's apology? Let us know in the comments!