Exclusive
'No Hope For Her!' Kim Richards Dog Bite Victim & Former Longtime Family Friend Kay Rozario Slams 'RHOBH' Star After Winning Lawsuit -- 'Deserves What She's Getting'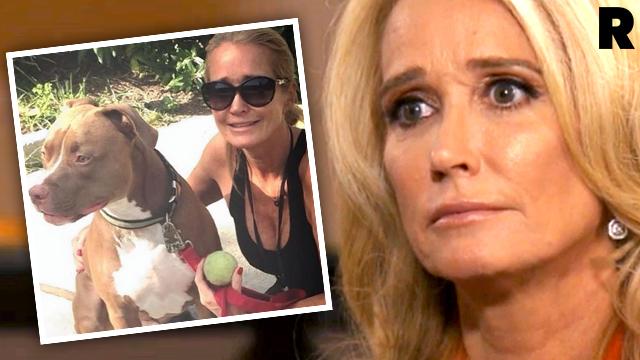 Kim Richards has lost her battle against her former family friend, 80-year-old Kay Rozario, who was mauled by the Real Housewives of Beverly Hills star vicious pit bull Kingsley. And while the case continues, Rozario tells RadarOnline.com exclusively that she is definitely "done with Kim!"
"Kim is too far gone and there is really no hope for her at this point," Rozario says in her first interview since being granted a default judgment by the courts.
Article continues below advertisement
The troubled 50-year-old admitted alcoholic is currently in rehab after she was arrested while intoxicated at the Beverly Hills Hotel Polo Lounge. Following the news that Richards was formally charged in the case, Rozario tells Radar, "I have no sympathy for her at all.
"I have known Kim since she was a little girl. She deserves everything that is going wrong in her life right now because she brought this on herself," Rozario says.
"I was surprised about the arrest because Kim has always been able to talk herself out of anything," she adds.
"But someone has to stop her. Her sisters couldn't. Her family cannot and now I have learned that even I could not. Kim's gone forever and I don't know that there is any rehab in the world that can save her at this point," Rozario tells Radar.
As Radar reported, Rozario's attorney Bill Zudhi, is planning to appeal the May 14 ruling in which the judge granted Rozario a default judgment in the amount of $8,083.53, stating that the final award was significantly lower due to the fact that the "only ascertainable amount Plaintiff submitted in her declaration was her medical bills which total $4083.50."
Article continues below advertisement
"I am still experiencing physical and emotional trauma from the event," says Rozario.
However, as the elderly woman closes this chapter of her life, she tells Radar that she still does not hold Richards' dog accountable for her horrific life-threatening injuries.
"I do not blame the dog. He is just an animal," Rozario adds. "Kim is the problem. Kim hasn't accepted any responsibility for her pets behavior and it is just a matter of time before Kingsley kills someone, unfortunately."
Do you think that Kim Richards should apologize to Kay Rozario? Tell us your thoughts in the comments below.