Exclusive
Headed For Disaster? Kim Richards Will Attend Daughter's Boozy Wedding Weekend Without A Sober Companion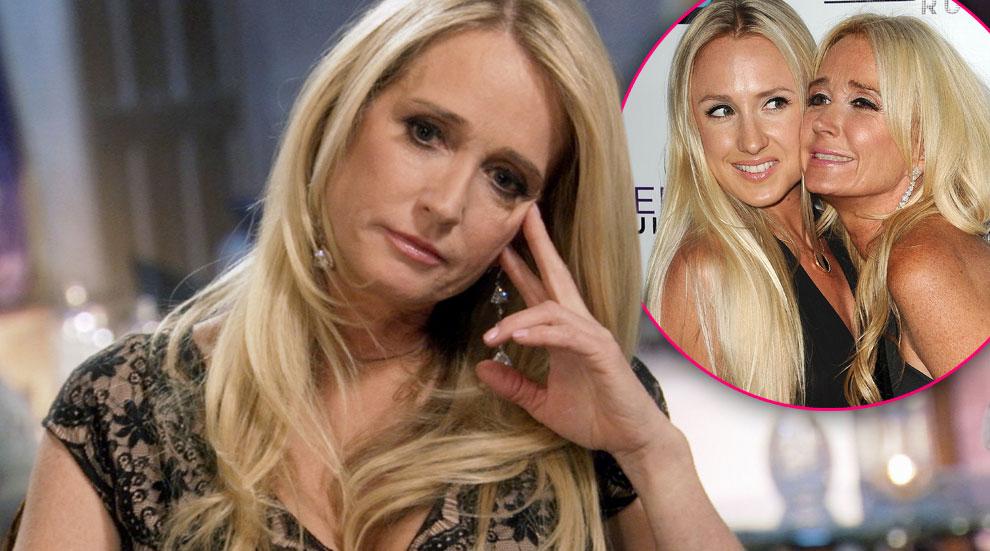 Kim Richards is ditching her rehab team to attend her daughter, Brooke Brinson's second wedding ceremony in Mexico this weekend. Instead of a from the facility, RadarOnline.com has learned, her ex-husband, Monty, will be on hand to guarantee she won't fall off the wagon. But after he gave her a Vicodin earlier this year, is he really the best chaperone?
The Real Housewives of Beverly Hills star scrapped plans to take a rehab employee, an insider told Radar, "because she doesn't want everyone talking about her having an outsider, with her in Mexico. She has decided that her ex-husband, Monty, Brooke's father, will be responsible for making sure she doesn't fall off the wagon."
Article continues below advertisement
Still, "There will be alcohol served at the wedding reception," the source confirmed. "Brooke has gone out of her way to tell the staff and wedding coordinator not to serve Kim any alcohol. During the wedding toast, Kim will be served a ginger ale or club soda."
Another insider complained,"It's so selfish of Kim to put that huge responsibility on Monty as he is battling terminal cancer. This wedding is turning into everything about Kim, and not the bride."
What's more, Monty might not be the best sober influence. In April, he admitted to giving Richards a Vicodin during filming for The Real Housewives of Beverly Hills. Her subsequent bizarre behavior led other cast members to question her sobriety. (Members of Alcoholics Anonymous consider taking unprescribed medication to be taboo.)
Meanwhile, Richards is already spending time outside of treatment.
On Friday, just days after she was charged with resisting arrest and battery of a police officer, the 50-year-old troubled reality star's sister, Kathy Hilton, shared a photo of her at her daughter Brooke's shower for her upcoming wedding to Thayer Wiederhorn.
In the caption, Hilton wrote, "With my beautiful sister and niece @kimrichards11 @brookewiederhorn so happy for you and Thayer ! Wish you both a long life together xoxo Aunt K."
Noticeably absent from the luncheon, however, was sister Kyle. "She was in New York City for Bravo's upfronts, but wouldn't have attended because of the ongoing hostility with Kim," the insider explained.