Exclusive
Defending Her Lies! Kim Kardashian Does Damage Control For Sister Kylie Jenner After 'Hate' Over Lip Fibs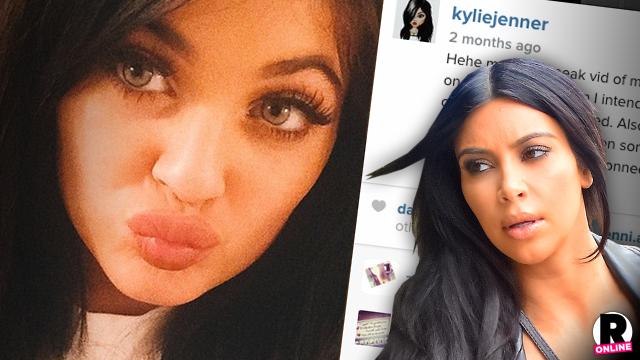 When you mess with one, you mess with them all! After Keeping up with the Kardashians reality star Kim Kardashian went on national TV to defend her younger sister, Kylie Jenner, RadarOnline.com has exclusively learned that it was the teenager herself who asked her older sister to go to bat for her against haters angry over her plastic surgery lies.
"Kylie asked Kim to discuss her lips situation during her interview with Access Hollywood because Kylie has been getting so much hate since she came clean with it," a Kardashian family source says.
Article continues below advertisement
As RadarOnline.com reported, Jenner recently admitted she'd lied to fans about why her lips were so huge, actually getting injectibles instead of using lip liner. Fans were outraged, and Kardashian was quick to hit back.
On May 20, the 34-year-old wife of "Yeezus" rapper Kanye West went on Access Hollywood and, during the interview, made a point to bring up her 17-year-old sister's lips one last time.
"I saw for so many years how she was so insecure," Kardashian told Access. "At 10 years old, she would say to me, 'How come my lips aren't big like yours?'"
After deciding to get lip fillers to plump up her pout, Kardashian simply told Jenner, "Just make sure you keep everything subtle and don't go overboard."
However, according to the insider, "It is kind of Kim's fault that Kylie is like this. She had to grow up her entire life looking up to Kim as the beauty in the family."
"Then when she saw Kim undergo numerous procedures to change the way she looked, she thought that she had to do the same thing," the source tells RadarOnline.com.​
Do you think that Kylie Jenner looks better now or the way she used to look before having plastic surgery? Tell us your thoughts in the comments below.