Kris Keeps Crying! Kim Sobs About Momager's Struggle With Bruce's Sex Change, Says 'This Is Really Hard For Her'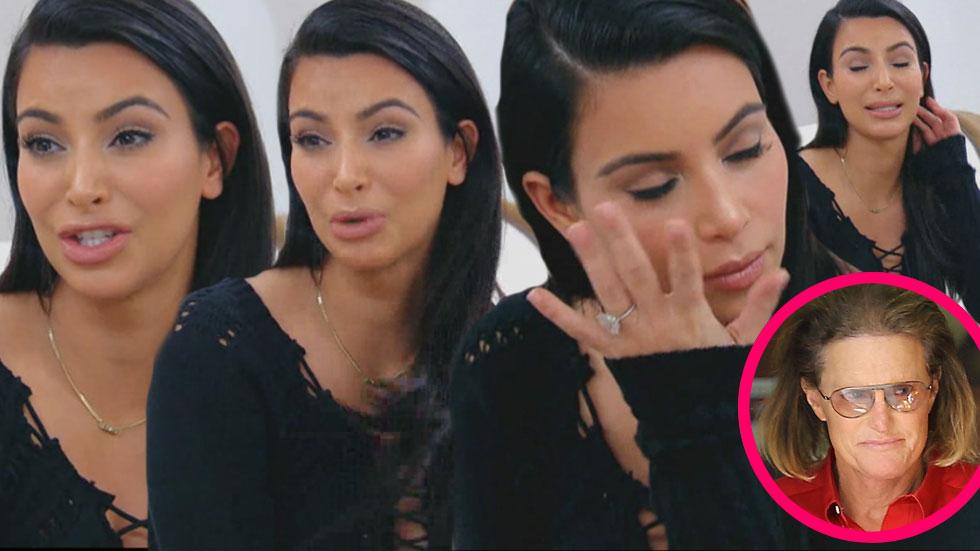 Kris Jenner is clearly not handling her ex-husband's sex change very well.
The matriarch of the Kardashian family "cries all the time," about Bruce Jenner's transition to a woman, a tearful Kim Kardashian reveals in an emotional conversation with her sisters.
In a sneak peek of Keeping Up With the Kardashians: About Bruce Kim is telling Kylie and Kendall Jenner about her conversation with her step-father.
Article continues below advertisement
"He is going to tell his full story," the 34-year-old explains to her teenage sisters.
"At first I was like 'I'm totally going to cry, I'm totally going to cry,'" she says and her sister asks if this was during her interview or just talking with the former Olympian.
"No talking to him because I was thinking, Mom this is really hard for her," and then she bursts into tears.
Kim continues sobbing as she explains to her little sisters how their momager is handling with the news that her husband of 25 years is becoming a woman.
"It's so sad, she cries all the time and it makes me really sad."
, Kris has been focused on turning Bruce's story into a paycheck.
"This was simply Kris' way of trying to cash in and profit off his journey," an insider said.
"Apparently, Kris and Bruce had it out over this upcoming two-hour special because she wanted to use some of the footage that he was saving for the docuseries in the special," the source tells Radar.
As the video ends, Kim is still sobbing as she tells her sisters that they need to really show their mother that they support her too.
"We should really appreciate all the things she does for us because she does a lot."
Keeping Up With the Kardashians: About Bruce airs on E! Sunday at 9/8c.