Boozing It Up! Watch '24' Star Kiefer Sutherland Unsteady On His Feet –– Wild Drinking Session In Bar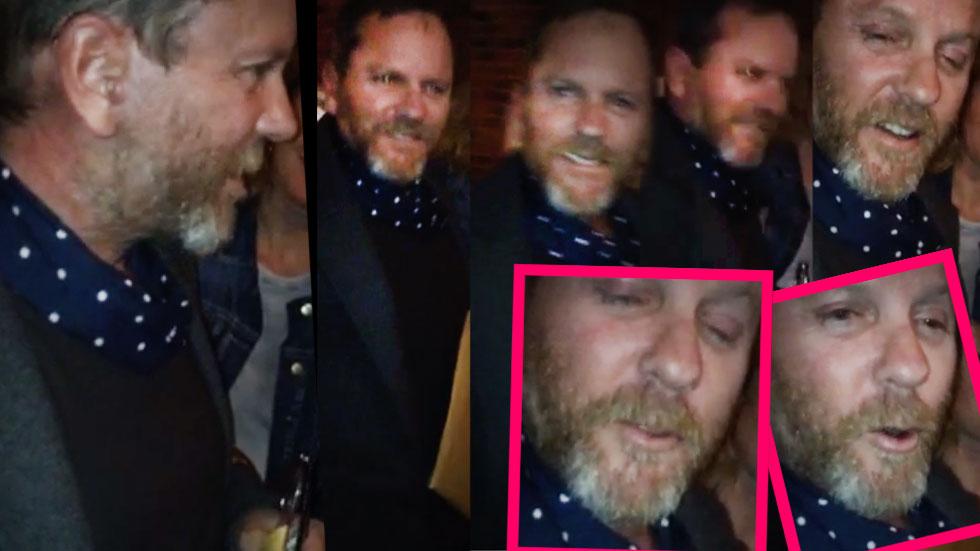 Kiefer Sutherland's history with booze is well known and RadarOnline.com has obtained an exclusive video of the actor leaving a bar looking very unsteady on his feet.
The 24 star was knocking back drinks at the Smoke House in Toulca Lake, Calif. on May 14, 2015 when an eyewitness spotted him.
"Kiefer was really enjoying himself," they told RadarOnline.com. "He looked like he was having a good time."
Sporting a salt and pepper beard, Sutherland was with a small group of friends but was friendly to the entire bar.
Article continues below advertisement
"He got there about 6:45 pm and left at 8," the eyewitness said. "He was sitting at the bar during the Clippers game but he was talking to people. He even sat down at a table with strangers and was talking to them.
"It was a dark bar and all of a sudden he just popped out. He was really animated and talking to everybody. He would go outside for a smoke and then come back in and talk to different people. He was in very good spirts. He even took a picture with a fan."
MORE ON:
Kiefer Sutherland
The spy told RadarOnline.com that it looked like Sutherland "was having a fun night out. He had at least two drinks at the bar."
When the eyewitness was able to talk with the actor he asked if he thought the Clippers would win and Sutherland retorted: "I don't know, I'm not tall enough for basketball."
In the video, the actor is being escorted out of the bar by a friendly female and he looks unsteady on his feet.
But even though the actor has been arrested four times for DUI, the eyewitness told RadarOnline.com that he did not drive himself home but got a ride.
Check out the video of Sutherland after his night in bar.