Finally Over? Kendra Wilkinson & Hank Baskett Talk 'Divorce' In New Clip: 'I Don't Think We'll Survive'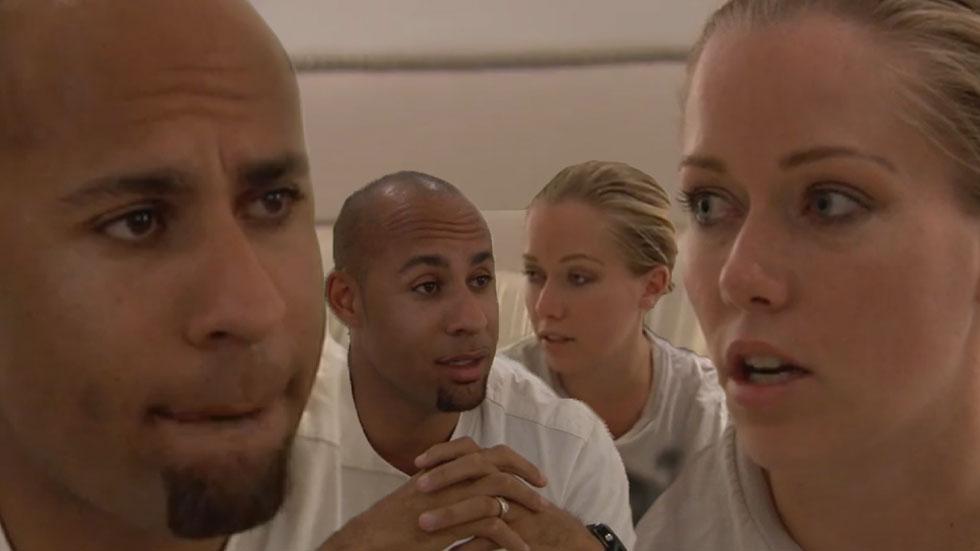 Kendra Wilkinson and husband Hank Baskett are still reeling from RadarOnline.com's exclusive report that the former NBA star cheated with a transsexual model.
Nearly a year after RadarOnline.com broke the scandal, the couple has turned to WE tv's Marriage Boot Camp: Reality Stars to fix the broken bond.
But even in the relationship rehab, Baskett, 32, brings up the "D-word" in RadarOnline.com's exclusive clip from the new season's premiere.
Article continues below advertisement
"It something happens to us, that's a divorce," the father of Wilkinson's kids Hank Jr., 5, and Alijah, 1, admits in a camera confessional. "I'm just praying. I'm just praying we get through this."
In a private moment between the two, the Kendra On Top star, 29, questions her husband's faithfulness.
"I need to know that you are 100% loyal every second, every minute of every day," she says in the video, before demanding the full truth, presumably about his steamy affair.
"If Hank doesn't make a choice to tell me everything, we're going to leave here and we're going to break apart," she admits. "We're going to be weak and I don't think we'll survive."
As RadarOnline.com first reported in June 2014, transsexual model Ava Sabrina London shared a steamy tryst with Baskett while Wilkinson was eight months pregnant with little Alijah in the spring of 2014.
Is it too late for Kendra and Hank to save their marriage? Watch the video below, and catch the Marriage Boot Camp: Reality Stars season premiere on Friday, May 29 at 9 pm et/pt on WE tv.