Explosive Situation Leads Bruce Jenner To Give Scott Disick Stern Parenting Advice: 'You Gotta Be There'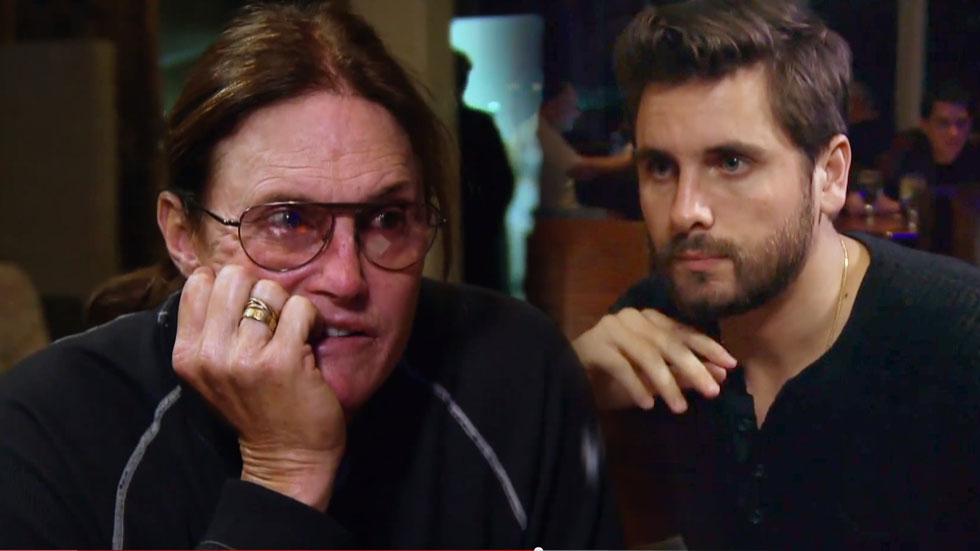 Bruce Jenner was back on Keeping Up with the Kardashians Sunday, but the storyline revolved around Scott Disick's bender, instead of the former decathlete's gender.
The episode showed Bruce guiding Disick how to be a good father, after "The Lord" got drunk and fled to Aspen.
Viewers saw Kourtney Kardashian's baby daddy swigging wine from a bottle at 11 a.m. at Khloe's house after she said he'd had a wild night and wasn't allowed back at his home with Kourtney, who had recently given birth to their third child.
Article continues below advertisement
"She wanted me to call the police on you," Khloe told Disick. "She will have you arrested if you go home."
Later, Bruce learned all about the Disick drama from Khloe, who said that Disick had wound up leaving her house at 3:00 p.m. and then had "been M.I.A" for a few days. (They later found out he'd traveled to Aspen).
"He does anything he wants to do," Bruce sighed.
Tough love Bruce said that if Disick was showing up places in bad condition, he should "sleep outside on the lawn."
Later, as RadarOnline.com previously reported, Bruce confronted Disick about his behavior after he had shared a dune buggy getaway with Khloe and Bruce to Pismo Beach.
Over dinner, Bruce said it was great Kourtney's kids loved their aunt but, "It's important that their dad's around."
He questioned Disick about how he left his home and family a lot.
Disick told the cameras that he went "in-and-out of happy and dark places in my life," and said he wanted to change, but it wasn't that simple.
Article continues below advertisement
Disick, who seems to blame his family for his drunken ways -- Kourtney said that "he thinks this is his destiny" as it runs "in his family" -- then got some advice from Bruce.
The athlete said he'd been through a lot, but "the most proud thing about my life is the great kids I've raised.
"That's what life's all about," noted Bruce, father to six biological children and four stepchildren.
Watch the video on RadarOnline.com
Bruce -- who has admitted he wasn't always there for his older kids -- told Disick that dads teach their children little-by-little, and that "you never know when those times are gonna come that you can do that.
"So you gotta be around all the time," Jenner said. "As time goes on and the kids start growing up, it only gets more and more difficult."
Disick told the cameras he got Bruce's point, and vowed to get back where he needed to be.
Article continues below advertisement
Disick said he was afraid of having three kids so he ran out the door, but had realized it wasn't so bad.
Bruce stressed, "It's not just what you do; it's being there."
Disick resolved to travel home from their dune buggy trip right then -- and Kourtney greeted him with open arms.
She said, "I don't want to leave somebody when they're at their lowest."
In other party boy news, viewers saw Khloe complaining to Kim that brother Rob had had a party in her house -- and somebody had vomited.
Kim said that Rob led a bizarre life in which he threw parties but didn't communicate with his sisters.
Also on the episode, Kim told Khloe how she, husband Kanye West, and their daughter North had finally moved out of Kris Jenner's house and into their own home.
Later, Kim watched happily as North, almost 2, appeared in West's video, shot by famed director Spike Jonze.
"You did so good in daddy's video," Kim told her little girl as she toddled around in the rain.
In addition, Sunday's episode showed Kylie Jenner shopping for a house of her own, but getting cold feet after Kim and Khloe told the teen she didn't know the first thing about home ownership.
However, Kris talked her into going ahead with the house purchase.
Keeping Up with the Kardashians airs Sundays on E! at 9/8c.