JWoww Strikes Back After Bikini Backlash –– 'Jersey Shore' Star 'Not Embarrassed' By Cellulite, Boasts She Loves Food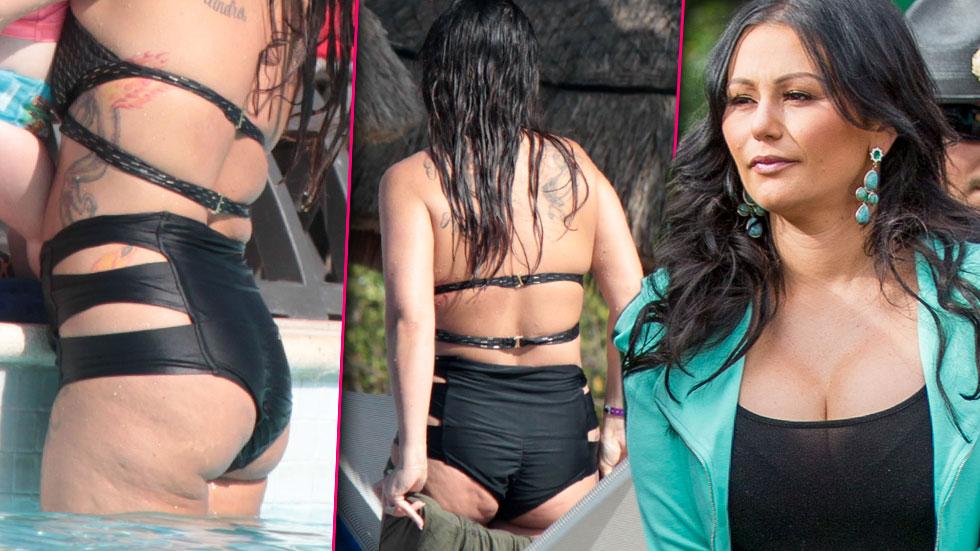 Jenni "JWoww" Farley took to social media to defend herself, after recent photos of her cellulite-ridden rear were snapped while she was vacationing poolside in Cancun.
"I want to sit here and say that I'm embarrassed by these pictures," the East Coast native wrote on Instagram, "but honestly, I'm not."
She continued in getting specific about her diet habits, writing, "I'm a new mom that loves to work out but also loves food as well," adding that she "always tries to eat healthy."
Article continues below advertisement
https://instagram.com/p/24XjxnKSwy/
The MTV star said that she was enjoying a resort vacation after a friend's wedding at the time the images were shot. She steamed over the idea that "someone decided to sell even more awkward photos of me on vacation with my family ... so tabloids can get a nice laugh and write mean things."
The 29-year-old, who's about 10 months removed from giving birth to her daughter Meilani, declared that "at the end of the day I am not perfect and neither is my body," vowing she "will never try to follow the trend of being stick thin."
"I follow the trend of what I love in life... And what I love is me."
As RadarOnline.com previously reported, the reality TV beauty is getting ready to tie the knot with fiancé Roger Mathews this fall.