Supermom? Bethenny Frankel Claims She's 'Not Nannied Up' Despite Vast Wealth & Daughter Bryn Is Top Priority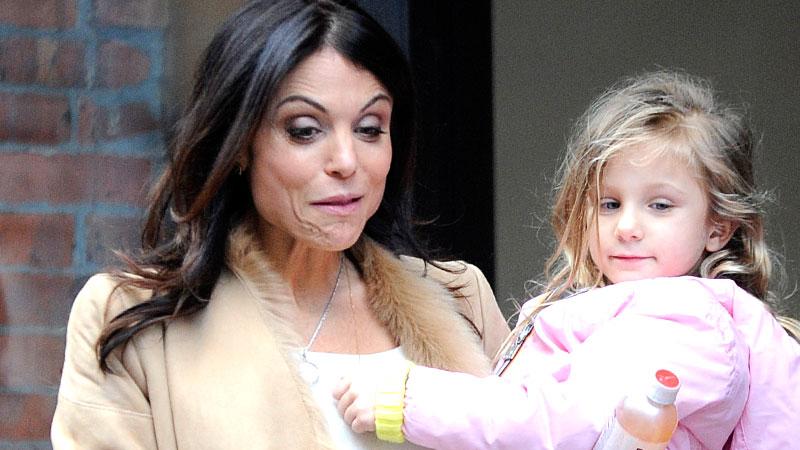 Money doesn't make the mother according to Bethenny Frankel. The reality star claims that her tragic past is not affecting the way she parents her own daughter and neither is her present millionaire status.
The Real Housewives of New York City star insists in her new blog that she always puts Bryn Hoppy first.
"I'm going through a divorce, and my precious moments are divided," she wrote.
"My balance as a mother and business person is knowing that I spend every moment possible with my daughter," the 44-year-old reality star, who is locked in a vicious divorce from Jason Hoppy, said.
Article continues below advertisement
As RadarOnline.com reported, the Skinnygirl mogul is worth millions, but she claims that she is a hands on mom.
"The one thing that is said universally is that it goes by so quickly. I may have made some money, but I am not "nannied" up, and I don't go out with girlfriends when I can be with my child," she insisted. "'Child care' doesn't get me more time with my angel."
She also reflected on her conversation with her step-father, who told her that her mother never wanted a child.
"It has been a long time coming, and as I wrote in A Place of Yes, I don't wear my story. I, genuinely, am not angry," Frankel insisted. "I think I have longed for a person to discuss the craziness of my past with. I'm an only child and essentially an orphan, so there is no one I can turn or talk to that can acknowledge what I remember to be true. I do think that people do their best; all I can do is pay it forward by being the best mother to my daughter that I can possibly be."
What do you think about Frankel's motherhood claims? Sound off in comments below and check out what the other Housewives are saying on Twitter now.