'RHONY' Rumble: Bethenny Blasts Sonja's Clothing Line – It Is 'Smoke & Mirrors,' Says Morgan Is 'Misguided'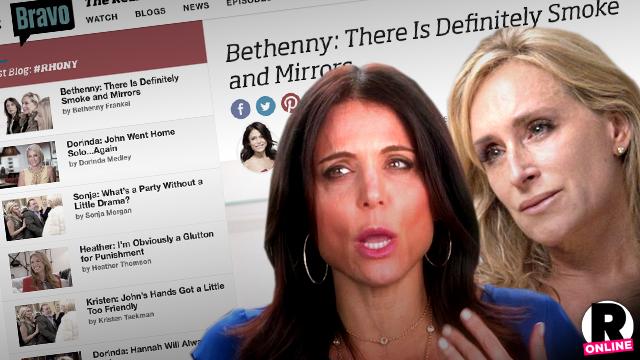 Bethenny Frankel's offer to help Sonja Morgan with her business looks like it might backfire! The two frenemies pull no punches regarding the matter in their latest Bravo blogs.
"On the one hand, I'm really grateful to have a girlfriend who is open minded and really wants to support me," Morgan wrote.
"But, at the same time, I don't feel like Bethenny is really able to understand my businesses and my situation enough to ask some of the driving questions at this point."
Article continues below advertisement
Meanwhile, her Real Housewives of New York City co-star expressed her doubts about the clothing line ever coming to fruition.
"As for her fashion meeting, I think she front-loaded that staff for effect," Frankel blogged. "I will bet everything that I hope to be that not one of those people is on salary. I happen to have an international brand and barely have that many people with those fancy titles, so there is definitely smoke and mirrors there."
Taking a subtle jab at Frankel, Morgan did write that she was grateful for the help.
"It's understandable Bethenny's taking a shortcut into my saga since she is busy adjusting to being single, going through a divorce, raising her daughter, and running a huge business, but she shouldn't comment so strongly if she doesn't understand the complexity of my situation quite yet," Morgan wrote. "Having said that, I know very well Bethenny's conversational style. She is opinionated, and I asked for it. My whole life I have soaked up information around me even though it comes from some tough sources."
Article continues below advertisement
But ultimately, Frankel seemed to be a fan.
"The truth is I love Sonja," she insisted. "There are times during this season that that will be difficult to believe, but I simply do. Some people are cunning and have a malicious or shifty or disingenuous side. Sonja has none of that. She is a good person. She is just often misguided and misdirected. Many of us are. Reminder: I have a book called I Suck At Relationships, so we all suck at some things."
The Real Housewives of New York City airs Tuesday at 9/8c on Bravo.
Check out what the Housewives are saying on Twitter right now.