Exclusive
Scientology Feud Exposed! Tom Cruise Secretly Slammed John Travolta To Church Leaders, According To Blockbuster New Video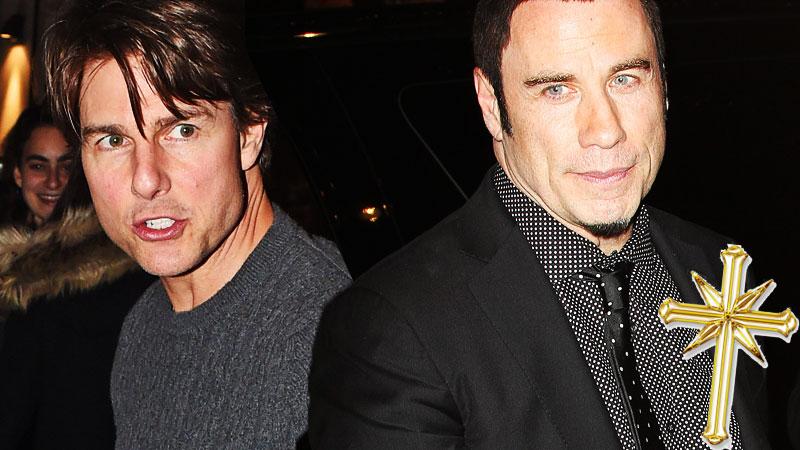 As the Church of Scientology faces more scrutiny than ever before, a newly leaked video has aired shocking claims that there could be serious dissension within the highest levels of the organization. In fact, one former member claims, A-list members Tom Cruise and John Travolta are secretly locked in a bitter feud kept secret for 15 years!
According to a new report in The National ENQUIRER, Marty Rathbun – the one-time former No. 2 of the religion and Cruise's personal auditor, has claimed that Cruise blasted Travolta over the failure of his Scientology film Battlefield Earth — even allegedly calling him a "son of a bitch!"
Article continues below advertisement
In a newly released video, Rathbun said the Scientology spat began right after Battlefield Earth opened in May 2000 to universally bad reviews – and Cruise came to the Scientology headquarters in Clearwater, Florida. Rathbun claims he and church leader David Miscavige picking him up at the airport.
"Tom Cruise gets in the car and says: 'Hey Dave, what's with 'Battlefield Earth,' man? Jesus, it's the worst PR in the world,'" Rathbun claimed.
"David Miscavige turns to him and says: 'Man, I swear to God … it's just 'Out Ethics.' If I had anything to do with that thing, it wouldn't have gone anywhere."
Rathbun said, "He and Tom just sat there, nattering away full-tilt, and saying what a ... Out-of-Ethics son of a b---- John Travolta was."
Referring to Travolta's "Out Ethics" was a particularly serious charge, since it's Scientology jargon for using freedom of choice to make decisions outside the church.
Article continues below advertisement
But according to Rathbun the truth was that Battlefield Earth bombed because Travolta allowed Miscavige to approve every sequence of the movie!
"He's literally seeing daily rushes from 'Battlefield Earth,' the shots for the day … he pulls out his dictaphone and is dictating his commentary on every shot," said Rathbun.
The Scientology leader panicked when critics blasted the project, Rathbun claimed, and placed the blame squarely on Travolta, accusing him of torpedoing the film by taking a salary.
Rathbun's allegations have come to light just as the powerful HBO documentary, Going Clear, has aired new claims of how Scientology affects its celebrity followers.
WATCH Rathbun air his bombshell allegations here: