Farrah's New Boyfriend Called 'Unprofessional' In Realty Yelp Reviews, Along With Ex Josie Leisz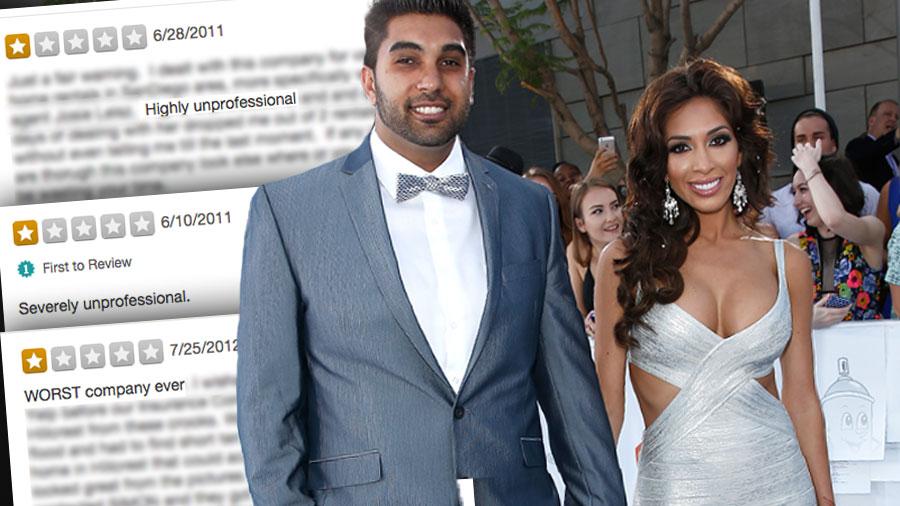 Farrah Abraham's so-called blissful relationship with new boyfriend Simon Saran was blasted after an old restraining order from his former lover surfaced, accusing the real estate agent of "violent outbursts" and "emotional abuse."
Saran's ex-girlfriend and former coworker, San Diego native Josie Leisz, filed a temporary restraining order against the 26-year-old in August 2011, eight months after she says the relationship ended.
Article continues below advertisement
But it seems Leisz has a few skeletons in her closet as well!
Yelp reviews from the once-couple's former realty company, Empire West Realty, reveal just how disliked these real estate agents were.
"Simon Saran is quite possibly one of the most inexperienced and immature real estate agents I have ever worked with," one reviewer comments on Saran's work performance.
Leisz, on the other hand, receives similar feedback: "Just a fair warning. I dealt with this company for vacation home rentals in San Diego area, more specifically with the agent Josie Leisz. Highly unprofessional and after 2 days of dealing with her dropped me out of 2 rentals without even telling me till the last moment. If any rentals are through this company look else where or you will just be wasting your time."
Of course, Saran and Leisz were sure to respond to their Yelp critics, defending their actions and even asking a few users to take down their original posts.
Unfortunately, reviewers wouldn't take the bait.
"Simon asked if I would remove my yelp review and I cannot in good conscience do that," a commenter responded. "I want to make it clear that you should steer clear of Simon Saran and Empire West Realty. He is unprofessional, immature, irresponsible, unreliable, and just down right rude, disrespectful, and lazy."
Perhaps Farrah should rethink her relationship with Simon!