Exclusive
Does She Know? Farrah Abraham's New Boyfriend Accused Of 'Verbal Abuse' & 'Violent Rages' –– Read The Restraining Order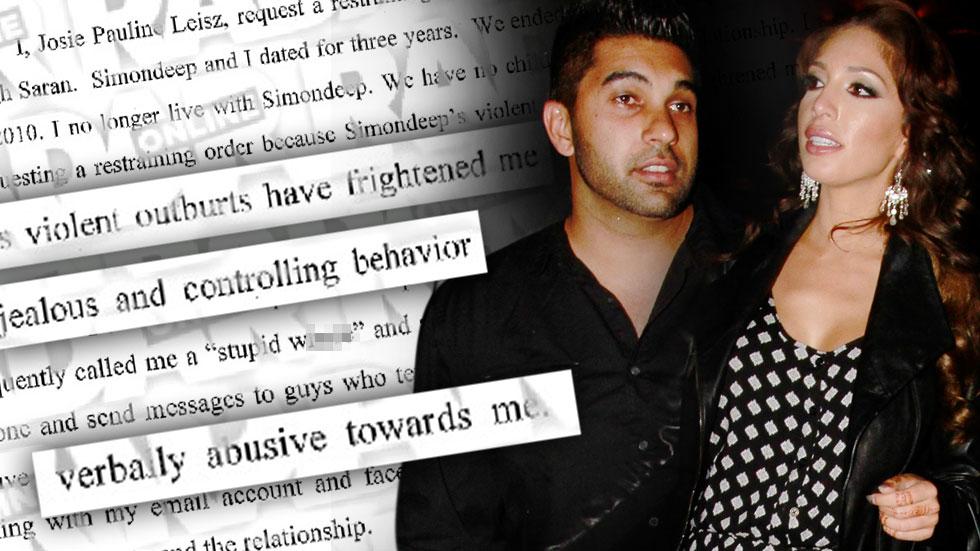 Teen Mom OG star Farrah Abraham seems so blissfully in love with her new boyfriend, real estate agent Simondeep "Simon" Saran, that the couple even plays happy family with her 5-year-old daughter Sophia.
But RadarOnline.com can reveal that the 23-year-old's Fresno, California-based lover has a sordid past with accusations of "violent outbursts" and "verbal abuse" in a romantic relationship.
Saran's ex-girlfriend and former coworker, San Diego native Josie Leisz, filed a temporary restraining order against the 26-year-old in August 2011, eight months after she says the relationship ended.
Article continues below advertisement
In California court documents obtained exclusively be Radar, Leisz claimed Saran emotionally abused her during their relationship, hurling insults including "f***ing b*tch" and "stupid wh*re," and exhibited "jealous and controlling" behavior.
READ THE SHOCKING COURT DOCUMENTS
"Simondeep would…take my phone and send messages to guys who texted me," she said. "In these messages he would tell them to leave me alone and that I don't like them, pretending to be me. Simondeep also did the same thing with my email account and facebook account."
After she ended the relationship, Leisz says an enraged, verbally abusive Saran refused to move out of her home, leaving her no choice but to move out herself.
Two months later, Leisz claimed Saran "burst into a violent rage" when he ran into her at San Diego's Ivy Hotel and Nightclub.
"Simondeep came over to my table and very violently flipped the table over," she recalled. "Simon then began screaming things at me and my friends and scaring us. Simon was yelling things to my friends like 'I f***ed that b*tch every night'…The club manager had to kick him out of the club for the night."
Article continues below advertisement
She also alleged that his work behavior created a hostile environment.
"We work together in real estate and he intentionally calls me to create an argument about work related things," she wrote. "His abuse has left me unable to work without disruption."
The final straw came when Leisz accused Saran of breaking into her home on the morning of August 6, 2011 and threatening a male houseguest.
"I'm gonna beat your ass f****t!" she claimed he screamed at the male friend. Leisz said she filed a police report.
"I am filing a restraining order so that I can resume my life and feel safe when I go out with friends at night and when I go to work," she said.
A judge granted Leisz the temporary order of protection, and Saran was ordered to stay at least 100 yards away from his ex's home, vehicle, workplace and school.
The drama continued when Leisz filed another restraining order in January 2012, accusing Saran of obsessively texting and calling her, hacking into her email, swiping $4,000 form her PayPal account, and even stealing her truck.
Article continues below advertisement
Saran denied his ex's accusations.
"I have not abused or threatened her and I am not a danger to her," he insisted in court papers. "I have never caused, attempted to cause or threatened to cause her bodily harm."
In February 2012, he was granted his own restraining order against Leisz.
He claimed his ex-girlfriend broke into his home the month prior and stole $1,700 cash, his checkbook, pictures and other personal items.
"On May 7, 2011 she accessed my email account and sent obscene and sexually crude messages to a female friend of mine," he wrote. "On January 15, 2011 she screamed at me, grabbed a pen and stabbed me several times in my chest area, ripped my shirt off, pulled my hair while calling me a 'stupid Middle Eastern' and 'piece of sh*t.'"
Leisz later filed a lawsuit against Saran and Empire West Reality, claiming unfair business practices, intentional infliction of emotional distress and defamation.
Not to be outdone, Saran and his colleagues denied the charges, and responded with a lawsuit of their own.
Should Farrah head for the hills? Sound off in the comments.