Commander-in-Cheat! Pervy Prez Barack Obama Caught In Secret Cyber Scandal –– He's Following Porn Star On Twitter!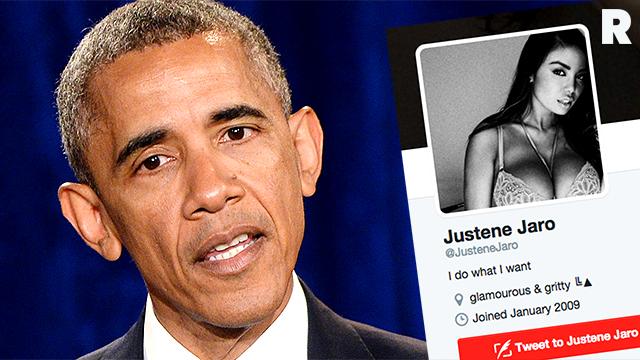 The "Commander-in-Cheat" is at it again! In yet another slap in the face to First Lady Michelle Obama, her hubby is lusting after a busty former Penthouse Pet!
The National ENQUIRER has exclusively learned that the object of President Obama's affection is Justene Jaro, a 31-year-old porn actress whose steamy Twitter account is being tracked by the official Barack Obama Twitter account!
"It's the latest cheating bombshell to rock Michelle, and she's furious," a White House insider told The ENQUIRER.
Article continues below advertisement
"One of her aides found out the president was following this woman on Twitter, and she hit the roof!"
"Michelle ranted at him that his wandering eye was getting too blatant, and that he was making a fool of himself because she knew it would eventually get out to the public," continued the insider.
Obama's account on Twitter, @barackobama, is one of over 47,000 following Justene's, @justenejaro.
In her Twitter profile picture, the brunette sexpot poses naked with her legs spread open and a digitally imposed pizza barely covering her breasts.
But Jaro's father has no problem with the president following his unmarried daughter on social media, even though dad-of-two Obama is 22 years her senior.
Jarvin Jaro said: "He can do whatever he wants — it's a free country! No matter what my political beliefs are, I'm okay with it."
Jaro's Twitter and Instagram accounts link to her pay-per-view softporn website, "Club Justene Jaro," which shows her in various topless poses. The profile page shows her straddling a blonde beauty fondling her breasts by the edge of a pool.
L.A.-based photographer Estevan Oriol, who has worked with Jaro for about five years, described her to The ENQUIRER as "very professional and easygoing."
When informed the President was following her, he said: "I think it's pretty cool."