Shocking & Tragic: Michael Jackson's One-Time Alligator Dies In Suspicious Oklahoma Zoo Fire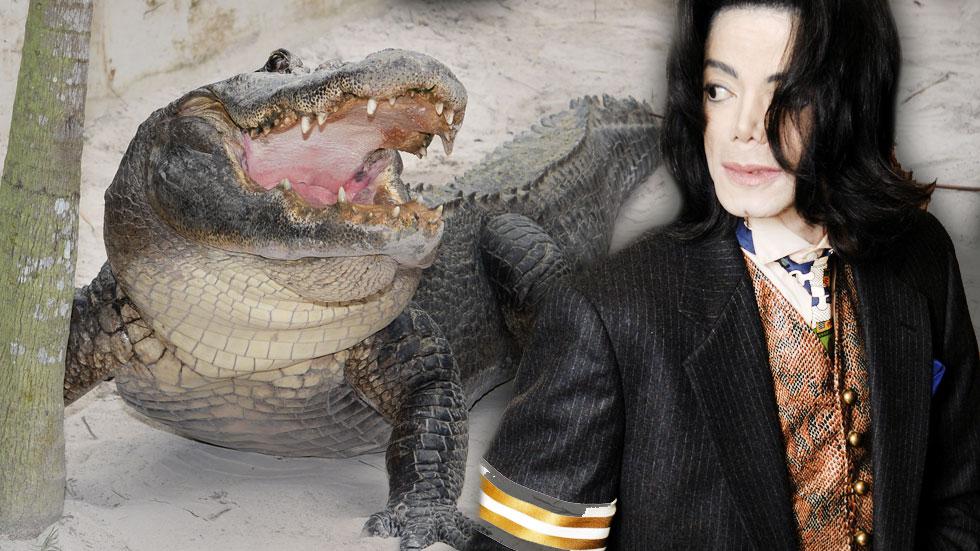 An alligator once owned by Michael Jackson was one of eight that was "boiled to death" in a Mar. 26 blaze in Oklahoma that police believe to be a case of arson.
Six other alligators and a crocodile perished in the early morning fire at Garold Wayne Interactive Zoological Park, and numerous items were reported stolen from the venue, according to the park's founder, Joe Schreibvogel. One alligator the late King of Pop once owned survived, but suffered smoke inhalation, he told NewsOk.
Article continues below advertisement
"When they closed down Neverland Ranch and auctioned off his property, they asked us to come get all the reptiles and alligators and other stuff," Schreibvogel said. "We also helped them relocate and move some giraffes he had on the property."
Schreibvogel told KXII, "The building can be replaced, the equipment can be replaced, but Michael Jackson's alligators cannot be replaced."
Schreibvogel, who produces his own TV show JoeExotic TV, said that lots of video equipment was destroyed in the incident, and believes that the deed was the work of animal rights groups and extremists who have an agenda against him.
"This was personal -- they targeted the studio to shut me up," Schreibvogel said. "They wanted to get me off the air or else they would've targeted something else."
"If somebody has an issue with the zoo or an issue with me personally then take it up with me -- these animals didn't deserved to be burned to death."
The fire was likely set to destroy evidence linked to the robbery, Garvin County Sheriff Larry Rhodes told local NBC affiliate KJRH.