Exclusive
Jailbirds & Teresa Giudice Sign MAJOR Deal For Bravo Spinoff — Filming From Behind Bars!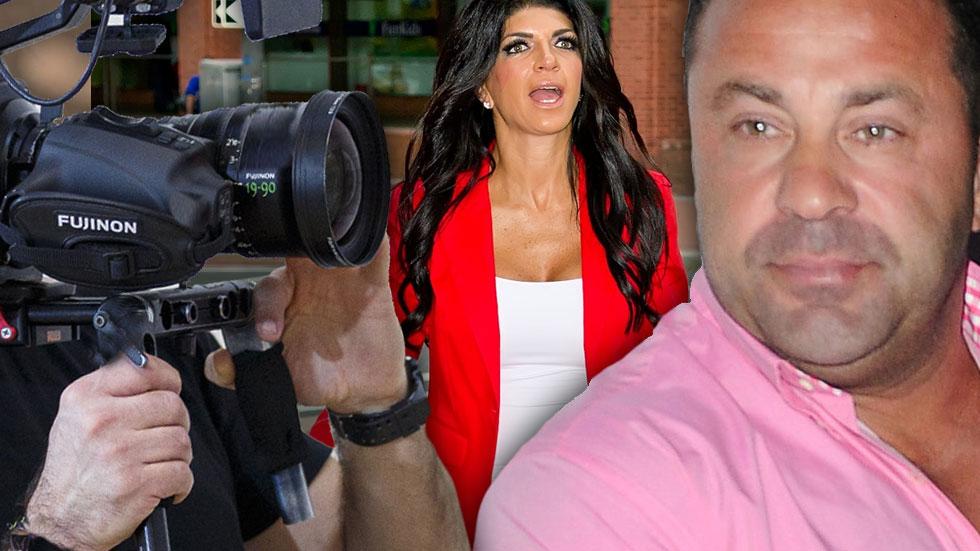 Three months after Teresa Giudice entered prison, it's back to business as usual for The Real Housewives of New Jersey star and her husband Joe! RadarOnline.com has learned that Joe recently signed on to do a reality show for Bravo featuring footage of his wife behind bars. But could her participation, however limited, affect her prospects for early release?
"The last thing Joe wanted to do was a reality show, but it was really the only option because there was no money coming in," an insider told Radar. "With Joe still not working, just putting food on the table was becoming very hard without handouts from their parents."
Article continues below advertisement
And so, talks with Bravo began, but according to the source Joe and his daughters — Gia, 14, Gabriella, 10, Milania, 9, and Audriana, 5 — were not enough of a selling point on their own.
"Producers insisted that phone calls with Teresa be included in the footage," the insider said. "The family will be required to talk to Teresa on speaker phone, as well as to share any email correspondence they have with her."
"Cameras will also be mounted in the car to get footage of their visits to the prison."
"There will be no cameras allowed inside the prison, and prison officials will be monitoring the situation to make sure Teresa continues to obey all the rules. Failure to do so could result in her early release, scheduled for February 2016, to be nixed," the source claimed.
Meanwehile, drama continues to follow the table tossing mother of four even behind bars.
Article continues below advertisement
Authorities at the Federal Corrections Institute in Danbury, Connecticut, "recently confiscated the cellphone of a female inmate," according to an insider. "She had smuggled it in."
"She had candid photos of Teresa all around the prison," the insider revealed. "Doing yoga, exercising and more. The woman was trying to get the photos out to sell them."
Juicy Joe and the girls will begin filming in the next several weeks, with the premiere scheduled for the fall on Bravo.
Watch: Teresa Giudice Walks Off the RHONJ Reunion