Exclusive
VIP Patient! Housewife Heather Dubrow To Undergo Surgical Procedure On Husband Terry's Reality Show 'Botched' –– Watch The Exclusive Video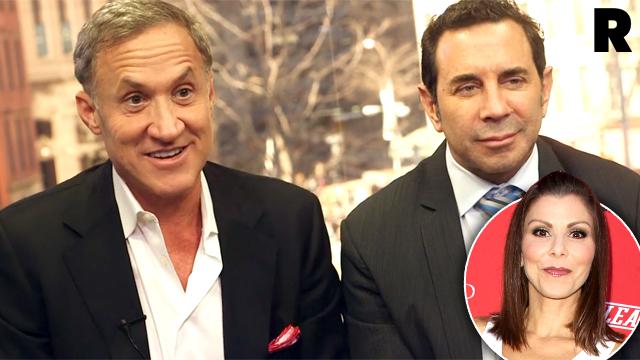 On the explosive second season of E! reality series Botched, Dr. Terry Dubrow and Dr. Paul Nassif treat a variety of celebrities, including I Love New York's Tiffany Pollard, baseball great Jose Conseco, and Hugh Hefner's Playboy model exes Kristina and Karissa Shannon.
But RadarOnline.com can reveal that the southern California plastic surgeons take on an extra-special patient this year: Dr. Dubrow's wife, Real Housewives of Orange County star Heather!
Article continues below advertisement
"Heather has a procedure on Botched this season," Dr. Dubrow, 56, tells RadarOnline.com in an exclusive video interview alongside his former Real Housewives of Beverly Hills husband surgical partner, 52.
But the Newport Beach-based doctor remains mum on the details.
"You have to watch," he hints, adding that his 46-year-old actress better half was a "very good patient."
"It's when she gets home!" Dr. Dubrow gripes. "The last thing you want to do is take your patients home with you."
"You better watch it!" Dr. Nassif quips, knowing all too well that the reality starlet is likely to catch his complaints.
The couple, parents to four young children together, is actually going into business together with their new skincare line, Consult Beaute, launching April 18 on Evine.com.
Dr. Nassif, who just launched his own skincare collection, NASSIF MD ™ Bio-Rhythmic Skincare ™ Line, on www.nassifmdskincare.com, says his longtime friend and surgical partner tends to grate on his nerves.
"He is irritating constantly! He loves to tease me," he admits. "We've been doing that for 16 years. I have my dry sense of humor with him, and pretty much have to ignore most of the stuff he says."
"Is dry a euphemism for bad, for unfunny?" Dr. Dubrow responds.
Watch the A-list surgeons battle wits on Botched's season two premiere, tonight at 9/8 c on E!.
And watch RadarOnline.com's exclusive interview with Dr. Dubrow and Dr. Nassif below.