Food Faux Pas: Gwyneth Paltrow Ends $29 Food Stamp Challenge With Expensive LA Dinner Event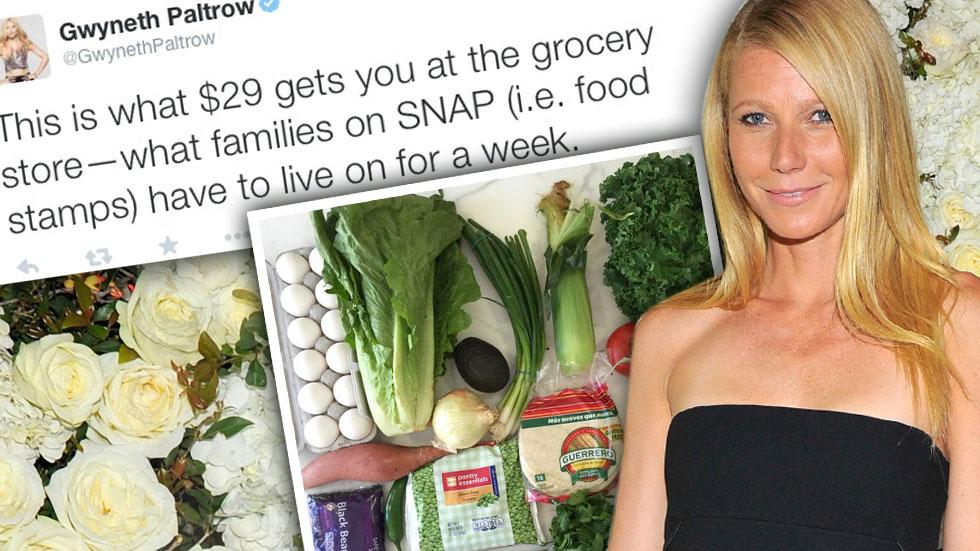 Gwyneth Paltrow has found herself under scrutiny once again; this time for eating too much!
After finishing up her seven-day food stamp challenge – in which she spent only $29 on groceries – the Goop mogul celebrated with a big old pig-out meal.
While any gal is entitled to a celebratory eat session, Paltrow lent herself to criticism after posting a picture of her food stamp groceries a little too soon before her extravagant meal.
Article continues below advertisement
She ended the New York Food Bank Challenge at Los Angeles hotspot restaurant Animal, where she apparently indulged in a lavish dinner.
"It was a prefixed menu, and the tickets were $80," a source told E! of the dinner, a promotional event for friend Jon Favreau's new film, Chef. "Some of the items on the menu were various types of barbeque, potato salad and beans."
https://instagram.com/p/1fNd-vipa9/?taken-by=alexhardy32
After fans began to criticize the actress for her food faux pas, her publicist quickly came to her defense:
"She finished the challenge last week when Mario Batali challenged her on 3 April. She didn't get to post the photos of the groceries until the 9 April," they explained.
"The point of the challenge is to show just how impossible it is to live on 29 dollars a week which is why most families run out of money 2/3 into the week at least."
Do you think Gwyneth should've posted her food stamp challenge a little sooner? Let us know in the comments below!