$100 Million Mistake! Alex McCord's Mega-Lawsuit May Be Dismissed If 'RHONY' Star Doesn't Return To U.S.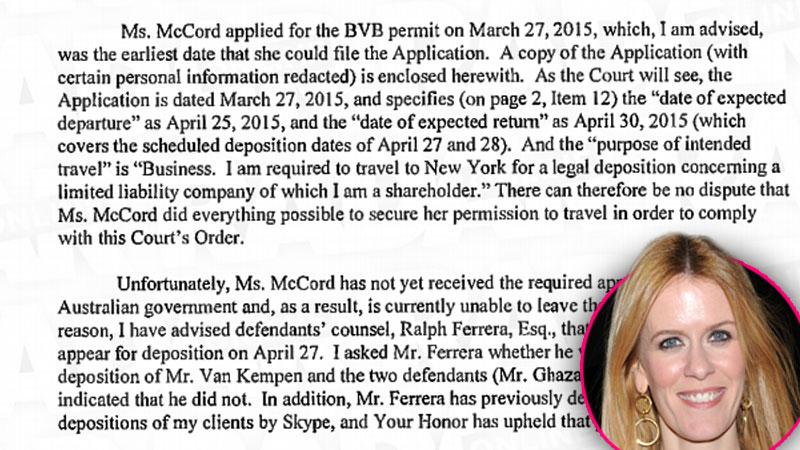 Alex McCord may have made a whopping $100 million mistake!
RadarOnline.com can exclusively reveal that the Real Housewives of New York City star may lose her mega-bucks lawsuit against her ex-business partners all because of poor planning.
According to legal papers filed in the legal battle, McCord can't get back into America due to the Australia government not allowing her to leave due to ongoing visa application restrictions.
Article continues below advertisement
As RadarOnline.com reported, Mccord and her husband Simon Van Kempen filed a $100 million dollar lawsuit against their former business partners last year claiming they created a successful Egyptian cotton bed and bath line named Aluxe with Vivian Douek and Mahmoud Ghazal.
The famous couple now accuses Douek and Ghazal of going behind their backs and creating a competing business and stealing away their customers.
They claimed the two even began using the same manufacturing company that was used for Aluxe.
However, Ghazal fired back at the RHONY star's allegations and insisted it was all lies. While Ghazal admitted that he did start working with McCord and her husband back in 2011 on the bedding line, he claims it was neither agreed upon that McCord would lend her name and reputation to the company to promote the line in the media nor serve as the company's president.
Article continues below advertisement
He said the lawsuit was full of lies and he demanded the entire case be thrown out.
The legal battle is currently in the discovery phase with each party ordering the other to hand over documents, communication and other information. McCord and Van Kempen, who moved to Australia to be closer to family, have been scheduled to be deposed in the case later this month.
However, McCord's legal team has just filed documents in the case explaining that she and her husband moved from New York to Australia back in December. The lawyer explains that Van Kempen is a citizen of Australia and can come and go as he pleases.
However, the lawyer notes, although McCord applied to the Australian government for an exit permit to come back to America to participate in a deposition for the legal battle, her request has still not been approved and she is unable to leave the country.
McCord is pleading with the court to allow her deposition to be rescheduled until she is granted the right to come back to America.
But everything may not be as she claims. Douek's lawyer is fighting the request, explaining she did research and found that Australia doesn't prohibit people from leaving unless there is a criminal record of issues with taxes in America. The lawyer for the defendant then asks the judge if the case will remain open indefinitely since McCord did not provide a date for when she expects to be back in in the U.S.
The attorney is asking the court to dismiss the entire $100 million case due to McCord's stalling tactics.
The judge has yet to make a decision on whether or not the case can proceed.