Exclusive
Boss From Hell! Charlie Sheen Sued For $1M By Former Employee — Read The Bombshell Lawsuit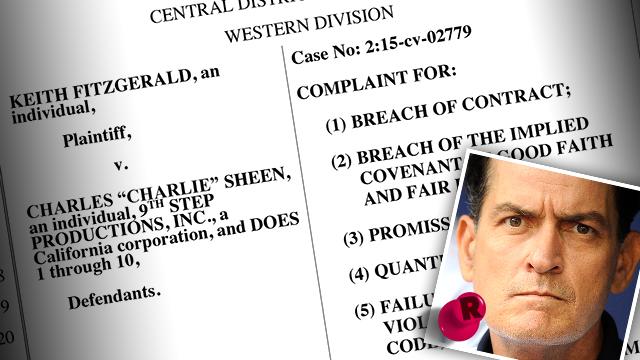 Charlie Sheen is the boss from hell, according to one former employee. RadarOnline.com has learned that the mercurial actor is being sued in federal court by former employee Keith Fitzgerald for breach of contract, failure to pay minimum wages, and more — for which Fitzgerald wants more than $1 million in damages.
According to the documents obtained by Radar, Fitzgerald and Sheen entered into an employment agreement in July 2013 that would pay $300,000 per year, for a three-year term, plus medical benefits and a 20% incentive bonus.
Article continues below advertisement
"The agreement between Fitzgerald, on one hand, and Sheen and 9th Step, on the other hand, is evidenced by various emails and documents and was also entered into verbally generally," the court documents state.
But "Fitzgerald's employment relationship was prematurely terminated after approximately five months without any explanation," according to the documents. "Fitzgerald received no compensation whatsoever for any of the services he performed for Charlie Sheen at any time whatsoever."
Now he's suing over a litany of charges: Breach of contract, breach of the implied covenant of good faith and fair dealing, promissory estoppel, quantum merit, failure to pay wages in violation of the labor code, failure to pay minimum wages in violation of the labor code, failure to pay overtime wages in violation of the labor code, and waiting time penalties.
Fitzgerald calculates that Sheen owes him damages "well in excess of one million dollars" and wants a jury trial to decide the final figure, the documents state.
Responding to the lawsuit, Charlie Sheen told RadarOnline.com, "I have been to busy taking the training wheels off of my spaceship to deal with the folly of nabob."