'Trying To Get Her Act Together' Over Bruce's Transition, Reveals Longtime Friend Kathie Lee Gifford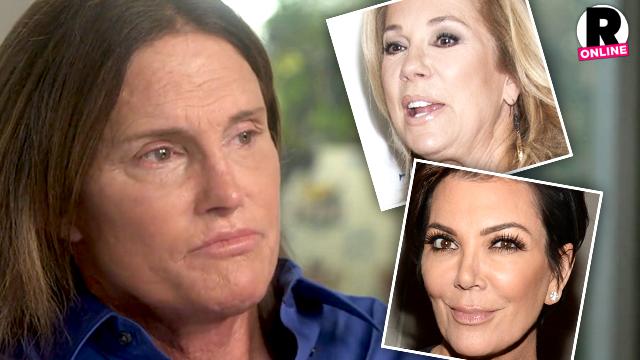 Bruce Jenner admitted to Diane Sawyer that he told Kris Jenner about his habit of wearing women's clothing at home early on in their 25-year relationship — but her long-time friend Kathie Lee Gifford is claiming that his gender identity issue was "new to Kris."
Bruce, 65, also revealed in Friday's tell-all 20/20 interview that he had been taking hormones for five years when he met Kris Kardashian and that he had a size 36B chest.
Article continues below advertisement
But Gifford said on that Kris is just learning about his desire for a sex change.
"The other wives, both fine woman, had a long time to get used to this," Gifford insisted on Monday.
"This was . She's trying to get her act together. She's trying to be a good friend to him. Trying to still be a good parent. And it's complicated in ways that we cannot even comprehend."
Gifford has known the couple for decades and said that she is supportive of Bruce's decision to transition to a woman.
"Frank and I send our love and prayers to Bruce and his family. God loves you and so do we… The biggest surprise is that Bruce is a Republican."
Gifford said that she was blindsided by the news that the former Olympian was becoming a woman.
"I never saw this coming. It shocked me as much… Frank had told me. And I talked with Bruce last week and nothing I said, or he said to me, will ever be revealed. But, I'm glad that we did have a long talk because I was prepared for everything he was going to say and even more. He told me and I am grateful for that because we all want to know how to go forward. We all want to love him through this."
Gifford added, "We also know that there are children who are... that have to learn how to deal with this. If you could imagine the surprise — I mean how do you deal with that? The way you do is ultimately when you put love first and try to put yourself in someone else's high heels, I suppose, and Louboutins in their case. The story isn't over obviously. The transition goes on."