Brody Burn: Jenner Disses Stepsister Kim Kardashian In Now Deleted Instagram Post – See The Shocking Snap!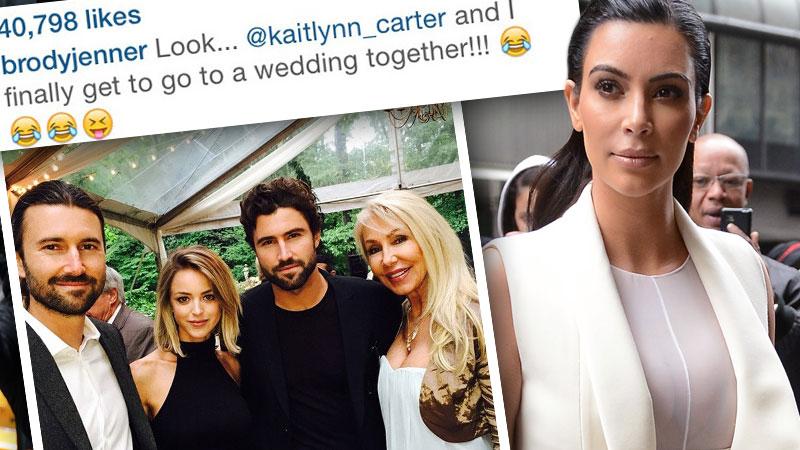 Feel the burn! Brody Jenner took to Instagram on Sunday to diss stepsister Kim like never before.
While Bruce Jenner's transition has taken the forefront of their sibling rivalry, it all started when Kim famously didn't allow Brody to bring a date to her wedding to Kanye West.
Brody clearly holds a grudge, letting Instagram followers in on how he really feels about Kim's cold shoulder move:
"Look... @kaitlynn_carter and I finally get to attend a wedding together," he captioned a photo over the weekend, which included his girlfriend Kaitlynn Carter, brother Brandon Jenner and mom Linda Thompson at a friend's wedding reception.
Article continues below advertisement
While the jovial emojis he included in the message serve as a lame attempt at sugar coating the jab, Brody likely regretted the photo, deleting it soon after posting.
The Jenner son has also pledged allegiance to Kim's ex Reggie Bush, who he openly admitted to liking more than Kanye:
"I love Reggie. Put Kanye and Reggie together in a burning building – guess who I'm saving? Reggie!" Brody gushed.
Lauren Conrad's former flame has reportedly been protecting father Bruce from Kim, who he allegedly felt to be rude over the Olympian's big life changes.
"The tension between Brody and Kim is only going to continue to escalate," one source shared on the matter. "Brody has zero tolerance for her diva behavior."
To add more insult to injury, Brody also tweeted a cryptic message, most likely aimed at the Kardashian family: "Having a hard time not putting a few people on blast who were not supporters before hand, but want to act like they were all along," the tweet read.
Brody later deleted this post as well.
Will Kim retaliate? What kind of shade do you think she'll throw? Let us know in the comments below & check out what the other Kardashians are up to!