Exclusive
Apple's Shame! Sweatshop Workers Forced To Toil In Filthy Factories To Prepare For Glamorous Watch's Launch –– PLUS Two Employees Found DEAD in Suspected Suicides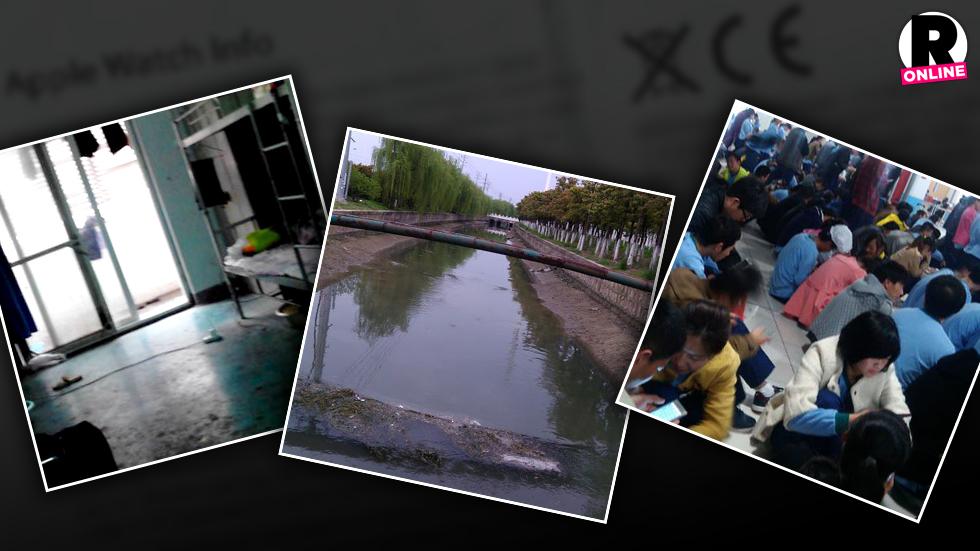 Apple fans all over the world are dying to get their hands on the company's latest creation, the Apple Watch. But RadarOnline.com has exclusively discovered that two factory workers lost their lives while producing the glamorous new gadget in a filthy Chinese sweatshop.
In a bombshell investigation obtained by Radar, factory workers' rights non-profit China Labor Watch (CLW) arranged for an undercover reporter to infiltrate Quanta Computer's Dafu Computer Changshu, where employees produce, assemble and test the Apple Watch in back-breaking, tedious work.
Article continues below advertisement
The covert investigator, who worked at the filthy factory for two weeks, was shocked to learn that a male worker's lifeless body was found floating in a river located near the employee dormitories in the early morning of April 2.
The very next day, a female worker was also discovered dead in the river. Both deaths were rumored to be suicides.
The laborers earn just $298 a month, and put in 90-100 hours of overtime during each pay period to earn a few dollars in extra cash.
According to the reporter, it's not uncommon for employees to work 12-hour or 16-hour shifts six days a week. Each employee must also subtract up to $129 in hiring fees from his or her meager first paycheck, among other head-scratching deductions.
Eight workers are stuffed into bunk beds in each of the company dorms' tiny rooms, and approximately 320 people share just one bathroom.
Perhaps related to the inhumane hours and tight quarters, at least 100 workers have been sickened by highly contagious measles and rubella, the investigator said.
Article continues below advertisement
Employees are regularly exposed to dangerous chemicals including n-heptane, which can cause dizziness and even loss of consciousness. They are not warned about the severe risks, and instead are simply told to wear a thin mask.
Supervisors constantly push the workers to produce more and more in anticipation of the Apple Watch's April 24 launch. If someone falls behind, they are subjected to cruel taunts, including "pig," one of the most offensive Chinese insults.
According to the investigator, Apple has representatives observing the plant every day.
"Apple cannot deny that they know their workers are treated like interchangeable cogs," CLW program coordinator Kevin Slaten tells Radar.
For more details on this shocking story, keep reading Radar.