Watch Livestream Here: Closing Arguments Start In Aaron Hernandez's Murder Trial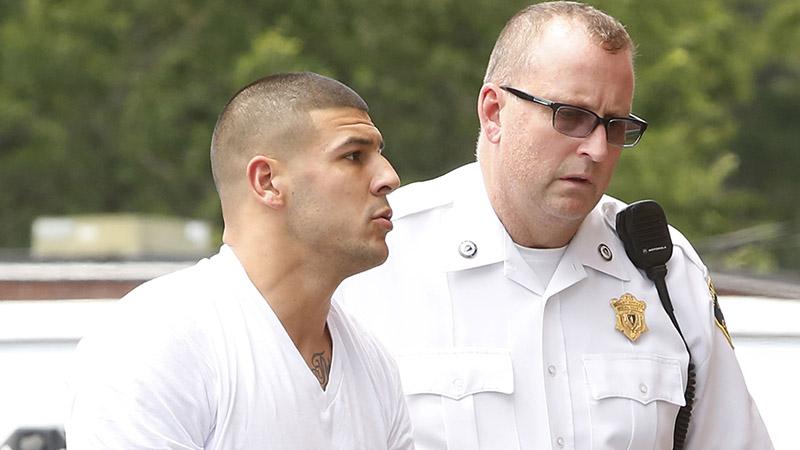 Closing arguments are underway in the trial of former NFL star Aaron Hernandez, and RadarOnline.com has a livestream inside the courtroom.
Early Tuesday, Hernandez's lawyer James Sultan argued that the only reasonable and lawful verdict for the jury would be not guilty, stressing to the jurors to wipe their memories free of all of the media speculation about the ex-New England Patriots tight end.
Both the defense and prosecutors have 90-minute timeframes to summarize their arguments for jurors, with Hernandez's legal team going first. After both sides present their cases, the judge will instruct a pool of 15 jurors, after which three will be designated as alternates. Once down to a dozen jurors, the group will be instructed to deliberate over the case.
Article continues below advertisement
As RadarOnline.com previously reported, the 25-year-old Hernandez has pleaded not guilty in the June 17, 2013 slaying of 27-year-old Odin Lloyd, who was gunned down in a North Attleborough, Mass. industrial park. Prosecutors said the athlete organized the slaying with the help of associates Carlos Ortiz and Wallace, who have also pleaded not guilty. Hernandez has also pleaded not guilty to murder charges in a 2012 double killing, but the judge has not allowed prosecutors from mentioning the separate charges in the Lloyd trial.
Watch the livestream on RadarOnline.com, courtesy of WildAboutTrial.com
For all the latest criminal coverage, check out WildAboutTrial.com.