Bali 'Suitcase Killer' Testifies In Death Of Pregnant Girlfriend's Mom—'I Was Angry…And Hit Her'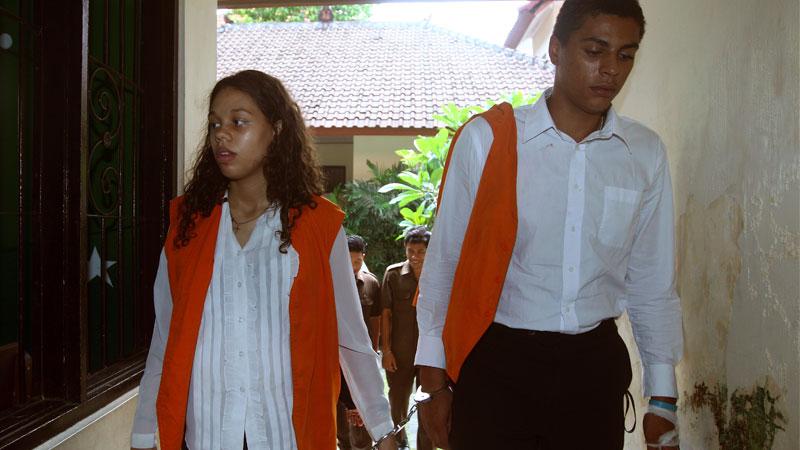 Accused murderer Tommy Schaeffer took the stand in Bali, Indonesia, and made some startling allegations against his pregnant girlfriend's dead mother.
According to testimony, Schaeffer revealed that he and Heather Mack were debating how to tell her mom Sheila Von Wiese-Mack that they were expecting a baby together.
The 21-year-old Chicago native told the Denpasar District Court that he hid a fruit bowl under his shirt as a "precaution" if the conversation turned heated. Schaeffer, who has been charged with premeditated murder for 62-year-old Von Wiese-Mack's murder last August, said he lost control after the victim allegedly began choking him after calling him a racial slur, saying her daughter was a prostitute and insisting they abort their unborn child.
Article continues below advertisement
"Von Wiese-Mack was angry at me when she found out that Heather was pregnant," an emotional Schaefer testified.
During the showdown, "I was angry, I took the fruit bowl and hit her," he also confessed.
When he realized she was no longer breathing, Schaeffer said he tried to perform CPR.
Yesterday, Mack, 19, testified that "the blow was not so hard... and my mother was still resisting."
"I asked Tommy to stop and then I ran into the bathroom," added Mack.
Once the couple determined that Von Wiese-Mack was dead, they say they panicked and packed her body into a suitcase and took it to a taxi.
As RadarOnline.com reported, Mack, who is due to give birth on April 1, insists she's not responsible for her mother's murder. "I maintain that I am innocent of all charges against me related to the death of my mother," the teen said recently. "I believe my lawyer, who has worked relentlessly on my behalf, will prove this in court."
If the two are found guilty of murder, they could face death by firing squad.