Exclusive
'I Am Truly Sorry!' Politician Apologizes For Sexting Anthony Weiner Mistress Sydney Leathers — Did His Fiancée Know?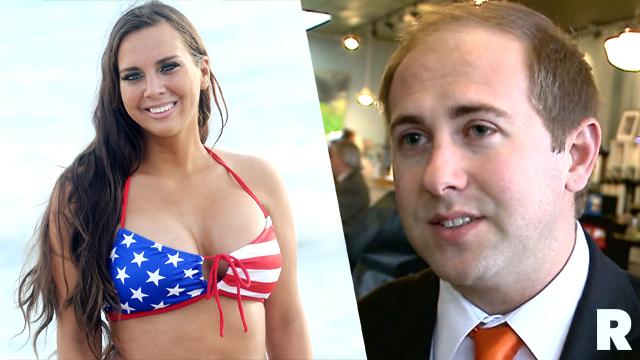 Indiana State Representative Justin Moed admitted Tuesday afternoon that he was the Twitter user who sent Anthony Weiner mistress Sydney Leathers X-rated messages about sexual domination. And while Moed apologized to his constituents, RadarOnline.com has learned that the pervy politico was engaged — Did his fiancée know?
"I am truly sorry I have hurt the ones I love most with my poor judgment," Moed said in a statement to The Indianapolis Star Tuesday afternoon. "This is a private matter and I ask for it to be treated as such."
Article continues below advertisement
"I apologize to my constituents and to everyone I have let down," he said.
But before the scandal, RadarOnline.com has learned, the Democrat was living with and engaged to an Indianapolis pharmacist. (The woman did not respond to RadarOnline.com's requests for comments, and RadarOnline.com has opted not to name her.)
According to a posting on TheKnot.com bearing the couple's name, they were due to wed in September 2015 in their hometown of Garfield Park.
But instead of wedding planning, in recent weeks Moed has been busy sending former Weiner mistress Leathers dirty details of his sexual fantasies under the Twitter name @B*tchboy.
Moed was "really enthusiastic about it," and "not shy at all," Leathers told RadarOnline.com.
"He was literally like telling me immediately he wanted to give me a strap-on to use on him," she said. "A big black one. Later in our conversation, he admitted to me had been with a black guy before as a bottom."
Article continues below advertisement
"He also talked about … I guess he had had a dominatrix before and she made him wear a French maid outfit and clean her house and clean her car he wanted to do that for me," she said. "He also wanted to be in a closet tied up and be forced to watch me be with my boyfriend."
The couple never met up, but now that their conversations have gone public, Leathers said her decision to expose the texts is probably the ultimate gift to her former would-be paramour.
If Moed wanted to remain anonymous, she said, "Maybe he should have picked someone else! Maybe he wanted this kind of attention. Maybe it's a self-sabotage thing. Maybe this is his ultimate way of being degraded and getting off on it."