Exclusive
#TeamRob! Scott Disick Sides With Rob Kardashian Over Controversial Kim K. Instagram Post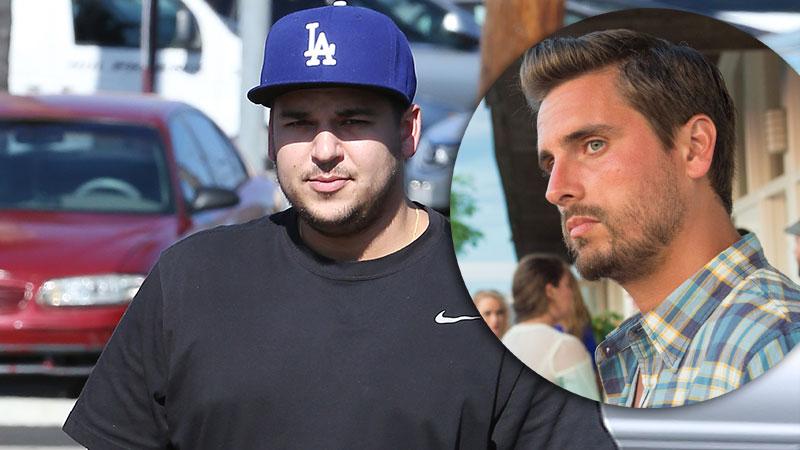 Scott Disick was in a Costa Rican rehab facility when his almost brother-in-law, Rob Kardashian, took to Instagram to compare his sister Kim to the psycho killer from Gone Girl. But, according to a source close to the Keeping up with the Kardashians clan, the 31-year-old reality father of three wasted no time showing Rob whose team he was on when he returned to the States.
"Scott totally has Rob's back in this and even though he was in rehab when this all went down, he was beyond happy when he saw it because he couldn't agree with Rob more," the insider tells RadarOnline.com exclusively.
Article continues below advertisement
In fact, the longtime boyfriend of Kourtney Kardashian and father to Mason, 5, Penelope, 2 and newborn son, Reign, made his point very clear on Wednesday when he posted an intimate photo collage on his own Instagram of himself with Rob, along with a caption that read, "Good old Bob."
https://instagram.com/p/0qUVEgu32O/?taken-by=letthelordbewithyou
"Scott cannot stand Kim and he only tolerates her because he has to," the source says.
"They have never seen eye-to-eye on anything and Kim has always tried to do everything she can to get him out of the picture, such as the time she hired private detectives to try and catch him cheating on Kourtney."
According to the insider, it is not only Lord Disick that has tensions with Kanye West's wife.
"Kourtney has major issues with her sister Kim and that is no secret to anyone," the source tells RadarOnline.com.
"She also thinks that Kim has tried to sabotage her and Scott's relationship because she does not want to see her older sister happy. There has always been a competition between the two of them."
Do you think that Scott Disick is wrong for taking sides in the battle between Rob and Kim Kardashian? Let us know your thoughts in the comments below.