Exclusive
Bad Mom? Kourtney Kardashian 'Disapproves' Of Partying Sister Kim's Parenting Skills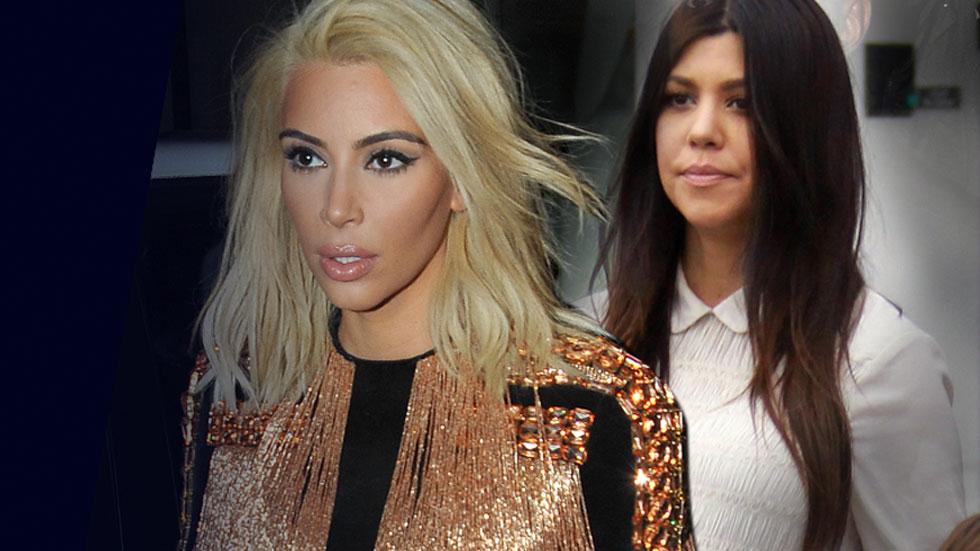 As Kim Kardashian parties it up in Paris with Kanye West, mom Kris Jenner and half-sister Kendall Jenner have been right by her side. But one family member thinks the newly blonde mom should be spending more time at home than out on the town. According to an insider, Kim's sister Kourtney disapproves of how she's raising her young daughter North -- and it's driving a wedge between them.
"If you notice, Kourtney and Kim are never together anymore," the Kardashian insider said. "Ever since Kim married Kanye, she doesn't even recognize her sister. Kourtney cannot handle being around her."
Article continues below advertisement
In fact, the source said, the three-time baby momma to Mason, 5, Penelope, 2, and newborn son Reign, "does not approve of the way that Kim is raising her daughter."
"Kourtney is a hands-on mom: Unlike Kim, she is actually present in her kid's lives, and she doesn't flaunt her children in front of cameras to show that she is a good mom," the source said. "Being a good mom comes from what you actually do when the cameras aren't rolling."
As RadarOnline.com previously reported, the formerly close sisters have not been getting along lately, and on the Season 10 teaser for Keeping up with the Kardashians, Kourtney sent a cease-and-desist letter to Kim over using her image in the video game Kim Kardashian: Hollywood."
Do you think that Kourtney Kardashian is wrong to call her sister a bad mom? Let us know in the comments below.