Exclusive
Rosie O'Donnell Ripped By Adopted Daughter's Biological Mom In Blistering Open Letter: 'I Don't Know How You Sleep At Night!'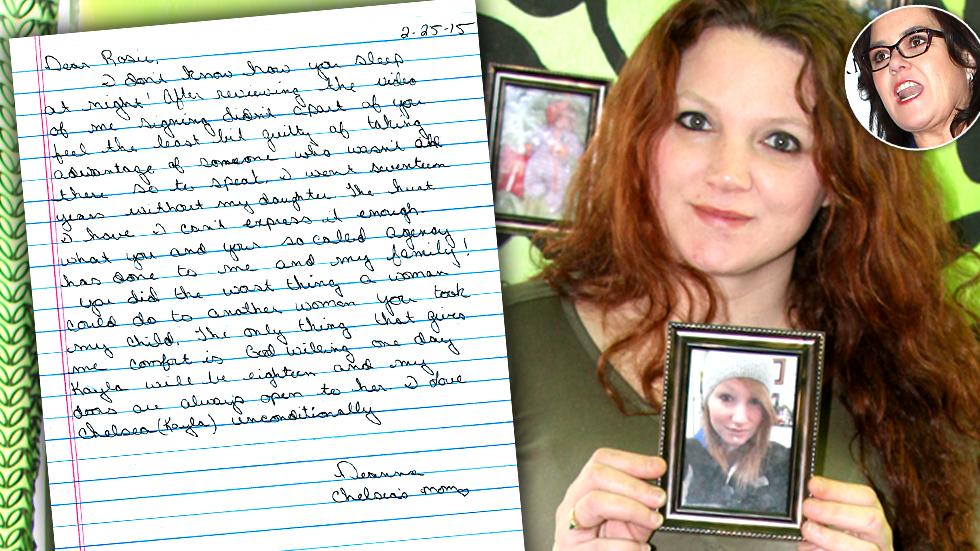 Rosie O'Donnell quit The View earlier this month to deal with stress relating to the end of her marriage to Michelle Rounds. Little did she know that she was about to be hit by another massive family scandal! The biological mom of her oldest adopted daughter, Chelsea, spoke out to The National ENQUIRER earlier this week with claims that she was under the influence when she handed over her baby to the talk show star. Now, RadarOnline.com has learned, she's speaking out again to O'Donnell in an angry open letter, accusing her of doing "the worst thing" one woman can do to another.
Article continues below advertisement
"Dear Rosie, I don't know how you sleep at night!" the letter, written by Deanna Micoley on February 25, begins. "After reviewing the video of me signing, didn't part of you feel the least bit guilty of taking advantage of someone who wasn't all there, so to speak?"
Micoley claims her ex had drugged her up on heroin before the adoption transfer. But O'Donnell's rep Cindi Berger insists O'Donnell "legally adopted" Chelsea, now 17. "The agency never would have accepted the baby if the birth mother was under the influence," Berger told The National ENQUIRER "There are notarized adoption papers signed by the birth mother and father that were accepted by both the adoption agency and the Court."
d In 10 Photos—'I Just Want My Daughter Back!'
O'Donnell is "unbearably proud" of Chelsea, Berger added, and "has encouraged and supported Chelsea's desire to communicate with her birth mother. How disappointing that Chelsea's birth mother would go public with this personal story without ever having met Rosie."
But Micoley insists she was done wrong.
"I went seventeen years without my daughter. The hurt I have I can't express it enough, what you and your so-called agency has done to me and my family! You did the worst thing a woman could do to another woman," she claims, insisting, "The only thing that gives me comfort is God willing Kayla Chelsea's given name will be eighteen and my doors are always open to her. I love Chelsea Kayla unconditionally."
READ her heartbreaking letter here: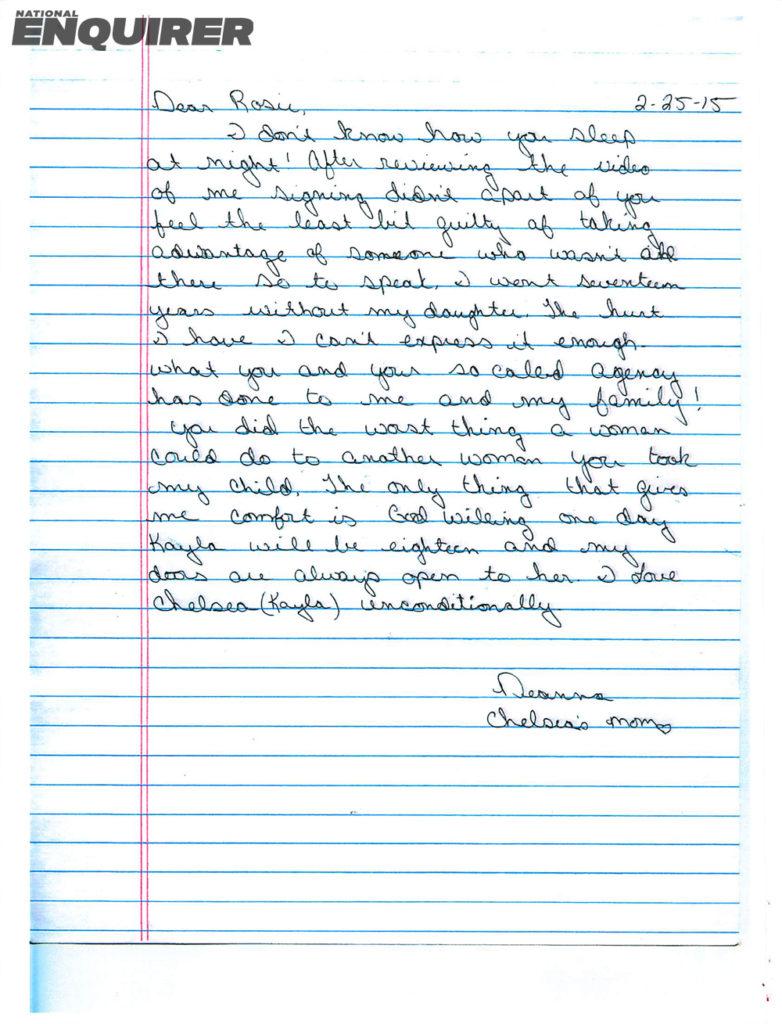 Watch: 'Rosie O'Donnell Stole My Baby!'