Exclusive
'Disgusted!' Lisa Rinna Attacks Kim Richards At 'RHOBH' Reunion Over Harry Hamlin Rumors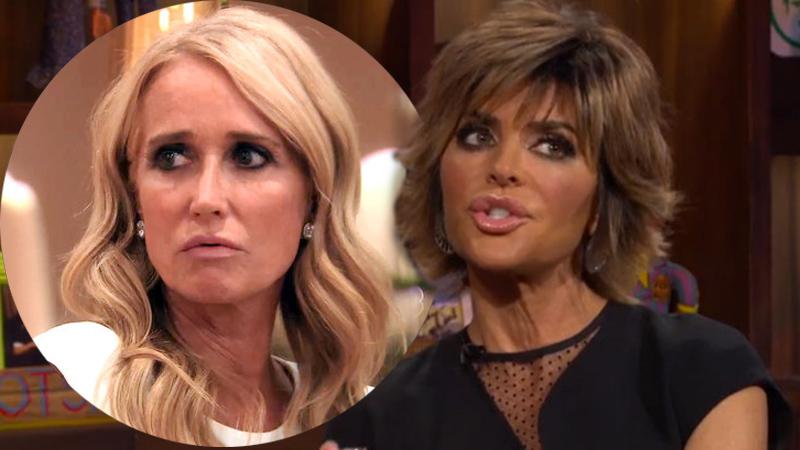 Lisa Rinna and Kim Richards' feud exploded during the recent Real Housewives of Beverly Hills reunion, when Rinna demanded to know the shocking secret Paris Hilton's aunt claimed she was keeping regarding Rinna's hunky husband, Harry Hamlin. Did she finally spill? RadarOnline.com has all the details!
The drama heated up on Tuesday night's episode of RHOBH as the ladies gathered for dinner at a restaurant in Amsterdam and got into a very heated argument about Kyle Richards' sister's sobriety. Adding fuel to the fire, Kim suggested Rinna's husband, Hamlin, has a hidden secret that she doesn't want to come out.
Article continues below advertisement
The ladies did come to a temporary truce during the trip, but at the recently filmed reunion, sources say it all exploded again.
"Lisa went after Kim for making the outrageous comments suggesting Harry has something hidden in his past that he doesn't want to come out," an insider told RadarOnline.com. "Andy Cohen asked Kim what the secret is, and Lisa pounced on her."
"Kim refused to answer, and revealed absolutely nothing, which disgusted Lisa," the source said. "She knew all along there was no deep dark secret. She went off on Kim, accusing her of trying to detract attention from her struggle with sobriety. It was an incredibly selfish and desperate stunt."
As RadarOnline.com reported, Rinna stood by her own attempts to stir up drama with Kim by questioning her sobriety.
"Lisa didn't back down when Andy asked if she had any regrets about bringing it up among the ladies," a source previously said. "Without hesitating, Lisa said, 'Absolutely not.' It was a very important issue that wasn't being addressed, and Lisa thought something needed to be done to try and help Kim."
Meanwhile, "Kim was visibly upset and shaking during filming breaks of the reunion because Lisa was just staring at her," the source revealed. "There was a lot of tension on the set between the two of them, and producers kept them apart for a reason."
Whose side are you on? Let us know in the comments!