Nick Gordon Defends His CPR Attempts On Bobbi Kristina Brown In Strange Twitter Rant: 'She Has My Lungs Now'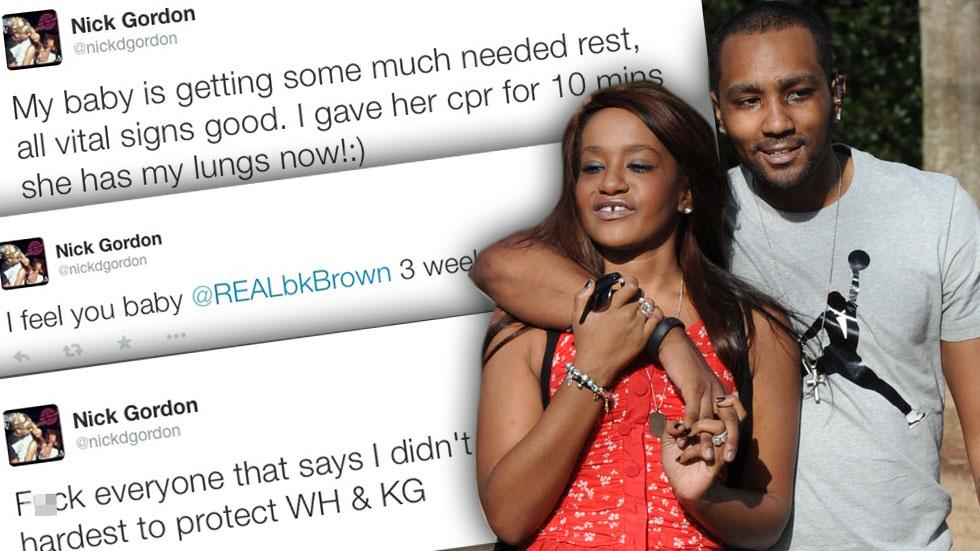 It's been weeks since Bobbi Kristina Brown's so-called husband, Nick Gordon, has visited his beau in the hospital, but that didn't stop him from speaking his mind on Twitter.
Whitney Houston's adopted son took to social media for another round of bizarre tweets regarding his sleeping beauty:
"F*ck everyone that says I didn't try my hardest to protect WH & KG," Gordon wrote.
Article continues below advertisement
"My baby is getting some much needed rest, all vital signs good," he shared. "I gave her cpr for 10 mins she has my lungs now! :)"
Perhaps the severity of Bobbi Kristina's condition is finally setting in for Gordon, who has not seen her in weeks. Despite being given the OK to visit her in the hospital, Gordon declined because he didn't want to meet the terms her father, Bobby Brown, set for him.
"(Nick) Gordon was offered an opportunity to potentially visit Bobbi Kristina and he declined to meet the terms of any possible visit," Bobby Brown's lawyer, Christopher Brown, commented on the matter.