Low Blow? Miley Cyrus Mocks North West On Instagram -- The Shocking Photos!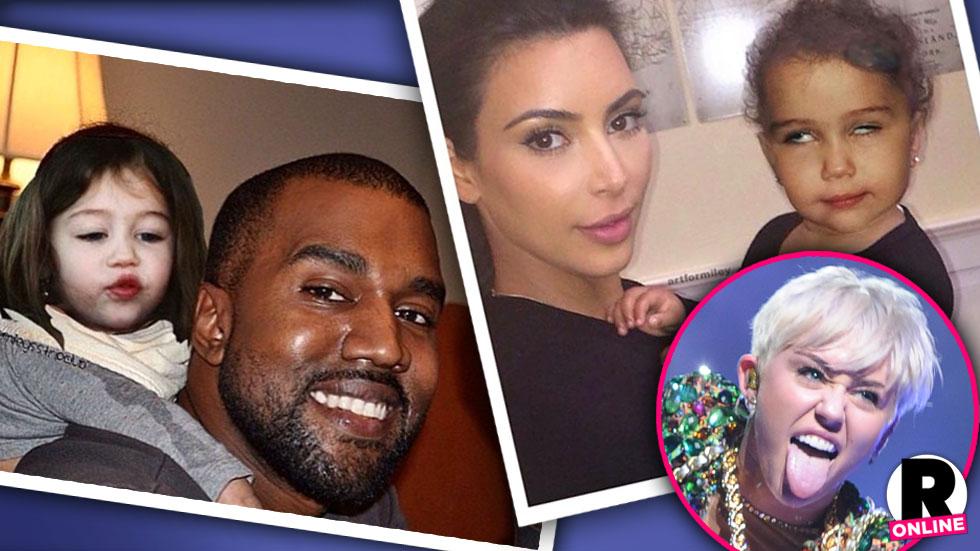 Has she gone too far?
Miley Cyrus poked fun at selfie queen Kim Kardashian and posted several photoshopped Instagram snaps that replaced North West's face with her own!
In her latest post, Miley seemed to be taking a direct stab at Kim and her mini-me daughter. The photo pictures Kim holding North, who is photoshopped as Miley rolling her eyes in exasperation.
The sassy caption reads: "Come on mom. Not ANOTHER selfie!"
Article continues below advertisement
https://instagram.com/p/0s606wQzC8/?taken-by=mileycyrus
Of course, this isn't the first Kardashian picture Miley has taken creative freedom over. There was also this highly entertaining snap of Kanye West carrying North/Miley piggyback style.
Miley isn't the first celebrity to criticize Kim's treatment of North. A-listers Anna Wintour and Sharon Osbourne have both criticized the mother-of-one for dressing her little one in drab fur.
Songstress Kelly Clarkson has also expressed a dislike towards the mother-daughter duo, saying she wouldn't schedule a play-date for their kids because she doesn't "hang out with celebrities." She did however compliment North's assumed talents saying, "I don't think my kid would be talented enough to hang out with Kanye's kid."
Bring on the heat! Who knows what Miley will think of next.
Is Miley obsessing over North? Sound off in the comments below!