Exclusive
Not In Vogue! Anna Wintour Slams Kim Kardashian Over North West's 'Dreary' Wardrobe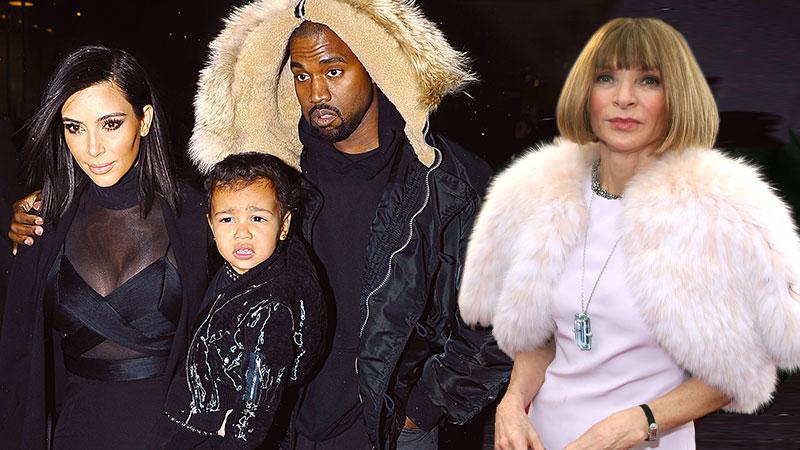 Children should be seen and not heard, as far as Anna Wintour is concerned. But these days, sources tell RadarOnline.com, she can't even stand the sight of North West! According to an insider, she recently staged a fashion intervention with Kim Kardashian and told her the toddler should swap out her "dreary" wardrobe for some fresh pastels.
The Vogue editrix "doesn't understand why North's parents dress her in all black," the insider revealed. "Anna is not a fan of all black, and thinks it's just inappropriate for North to be in dark colors."
Article continues below advertisement
Taking matters into her own hands, "Anna inquired about the designer outfits that had been gifted to North, and asked about the colors," the source said. "Kim replied that several designers had sent North pastel or pink outfits, and Anna replied she would look forward to seeing the toddler in color."
"It obviously went over Kim's head, because North still continues to be dressed in dreary colors," continued the source. And that's the way it'll stay if Kanye West has his way.
"Kim had always loved wearing pink before meeting Kanye, but he hates the color. Kanye thinks it's just cliche for women to wear pink," the source added. "Kanye doesn't want their daughter dressed in pink, ever."
In fact, whenever the parents are out of town, "North's nanny must always take pictures of her outfits for the day and send to them for approval. The nanny has been tasked with making sure that North is never in pink, and don't want Kim's mom, Kris, or sisters to put her in the dreaded color."
Wintour might still win out, according to the insider.
"Expect Anna to send something pink for North's second birthday in June. It would be very unsavory for North to not wear the designer outfit!" the source added.