Exclusive
'Sad' & 'Pathetic!' Industry Insiders Say Anna Wintour Wants Kids Banned From Fashion Shows After North West Tantrum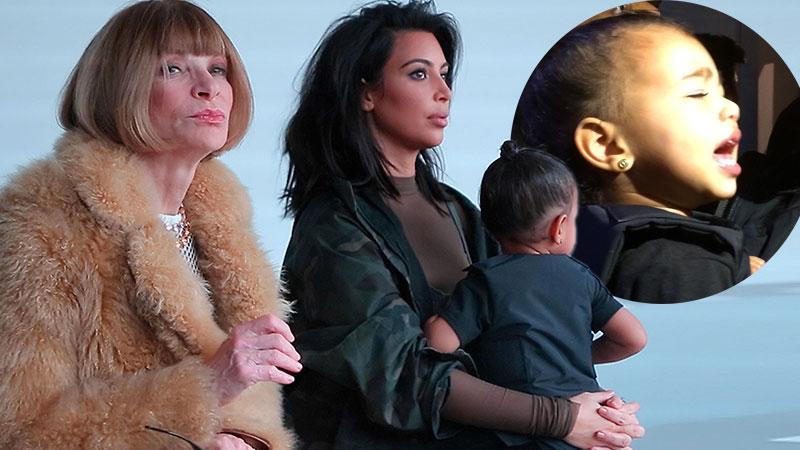 Screaming children are not hot, as far as Anna Wintour is concerned! RadarOnline.com has learned that the Vogue Editor-In-Chief has been telling industry insiders that kids — and especially North West — don't belong at fashion shows. What's more, she's blamed Kim Kardashian and Kanye West for using their daughter to take attention away from other designers — and onto them!
The Devil Wears Prada muse infamously sat next to Kardashian and her daughter during Kanye's fashion show. Though polite at first, she turned visibly cold when the tot had a meltdown, and had to be removed from the front row because of her tantrum.
Article continues below advertisement
"Anna doesn't think fashion shows are appropriate for very young children such as North West ," an industry insider confirmed to Radar. "The loud music, the lights from the show, along with flashes from all of the cameras, and of course, all of the people is just overwhelming to a toddler. Anna never would have brought her now-adult children to fashion shows when they were young."
"However, Anna does think Kimye is absolutely genius in creating buzz," the source admitted. "Bringing North to Alexander Wang's fashion show resulted in everyone talking about her, and not the clothes. Wherever Kim and Kanye go, it becomes all about them. Just look at the Grammys: Kanye just makes a 30 second crash appearance on stage, and everyone is talking about it for the next week!"
Attendees at the Feb. 12 event in New York City couldn't help but notice little 20-month-old North throwing a fit on her mom's lap.
A picture snapped at the event and posted to Twitter shows Wintour and music superstars Jay Z and (who wisely left their daughter Blue Ivy at home) suffering through the earsplitting episode.
The source added, "Kim and Kanye just tote North around like the latest must-have fashion handbag. Using a little girl to get publicity is just sad and pathetic. Leave North at home and let her be a child! Toting North around in large unruly crowds, especially in the sky high heels Kim always wears in the cold icy weather in New York City was a disaster waiting to happen."