Sloppy Seconds? Kanye West Reveals Lasting Effects Of 'Dream Girl' Kim Kardashian's Divorce From Kris Humphries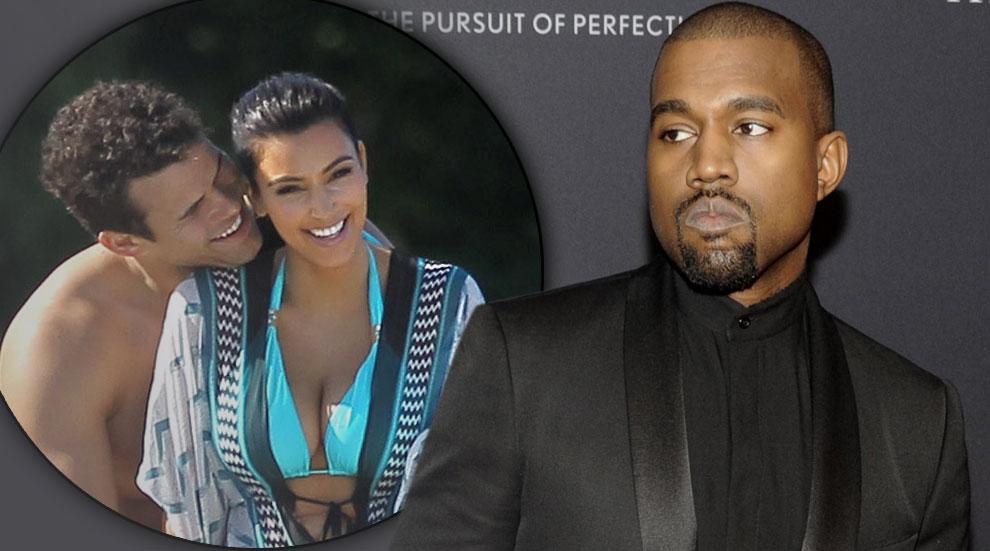 Kim Kardashian's divorce from Kris Humphries feels like ancient history – but not to Kanye West.
Kim's now-hubby stopped by On Air With Ryan Seacrest to discuss his Grammy antics and the lasting effects of Kim's short-lived marriage to the basketball star.
In an absurd (but not unexpected) moment, the outspoken rapper used their divorce to describe the Grammy Awards' biased voting system:
"The Grammy's are the dream. The dream," Kanye said emphatically. "You know, It's like when my wife got a divorce, and I'm sorry Kim for mentioning this as an example but it's the best I have in front of me right now, she got a lot of backlash from it because her fans felt like somehow their dream was broken, because she's a dream girl and they're living vicariously through her in some way.
Article continues below advertisement
With the Grammy's, for us artists that work really hard, it feels like they divorce us every year and break our dreams every year."
Interesting example, Kanye. Though his marriage to the Kardashian diva has been quite the success compared to Humphries – they've made it passed 72 days and have a child together – it seems a little fishy that Kanye's illustration reaches far into Kim's relationship history.
Hear the full interview on RadarOnline.com Online:
On a happier note, Kanye confirmed that he and Taylor Swift have officially put their "bad blood" to rest – and they may even collaborate in the future!
"She wants to get in the studio and we're definitely going to go in," he revealed to Seacrest. "Any artist with an amazing point of view, perspective, fan base, I'm down to get in the studio and work."
He added: "I don't discriminate, I don't have an elitism of music…whether you're Beyoncé, whether you're Taylor Swift, whether you're Jay Z, whether you're Beck, whoever, and they can be reciprocal with that, I'd like to be involved with that."
That should be some track!
Do you think Kanye is jealous of Kim's marriage to Kris Humphries? Sound off in the comments below!