The Bad Boy Backpedals! Kanye West Praises Beck, Calls Grammys Slam A 'Mis-Wording'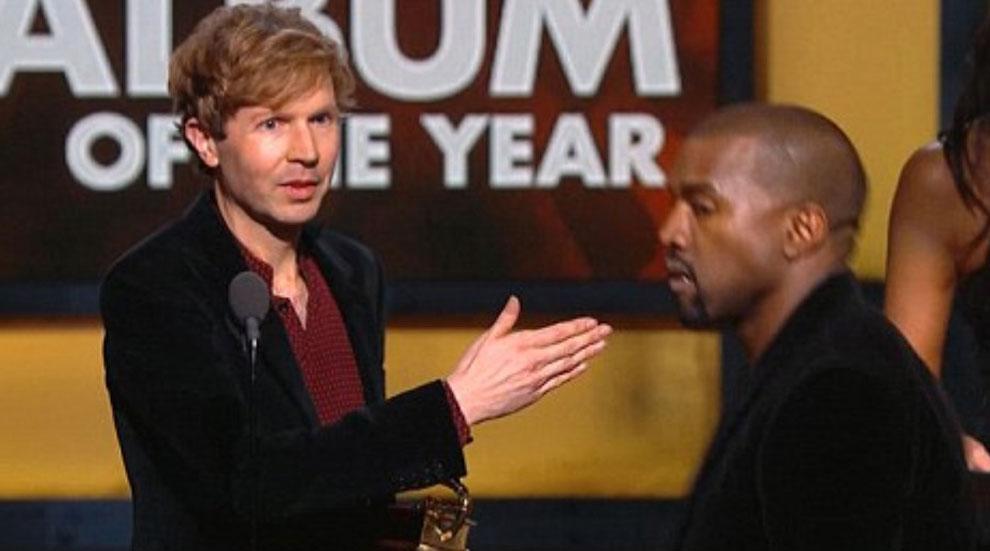 Kanye West backpedaled on his take on Beck Wednesday, telling Ryan Seacrest that his Grammy's diss aimed at the "Loser" singer "was a mis-wording on my part."
As RadarOnline.com previously reported, the "Hold My Liquor" singer vented after Sunday's awards ceremony over pal Beyonce's loss to Beck in the album of the year category. He said, "I just know that the Grammys, if they want real artists, to keep coming back, they need to stop playing with us."
Article continues below advertisement
He added, "We ain't gonna play with them no more -- and Beck needs to respect artistry, and he should've given his award to Beyonce."
But on Wednesday, the sample-happy rapper was quick to eat his words, calling Beck "one of the nicest guys and one of the most respected musicians in the game ... one of the most respected artists, and someone who respects artistry.
"When I said that thing about respect artistry, I think it came off the wrong way and that was a mis-wording on my part."
West's explanation of his gesture toward the stage when Beck initially won?
Hear the clip on RadarOnline.com
"The voices in my head told me to go up," he said. The husband of Kim Kardashian stressed "there's nothing that he'd as a fellow musician to disrespect him in any way," comparing himself to "a chiropractor" who adds a tiny tweak to the moment.
"It's just a little jolt of truth, right?" he said. "And then you know, everyone feels better after the fact, or everyone is way more famous after the fact, or everyone sells way more albums after the fact, and then Kanye just goes on being an a**hole to everyone."
Article continues below advertisement
Of course, West set the precedent five years ago crashing Taylor Swift's VMA win, again, trumpeting Beyonce as the rightful winner.
Hollywood's Most Hated Celebs! 57 Stars The World Can't Stand
He told Seacrest that the "1989" beauty "wants to get in the studio, and we're definitely going to go in.
"Any artist with an amazing point of view, perspective, fan base, I'm down to get in the studio and work," he said. "I don't discriminate, I don't have an elitism of music because of like how many Grammys or you know, the amount of ratings you get on an album.
"I that think everyone loves music whether they love hip-hop, alternative, country, and if I could be involved in giving people any type of energy, advice in the studio, whether you're Beyonce, whether you're Taylor Swift, whether you're Jay Z, whether you're Beck, whoever, and they can be reciprocal with that, I'd like to be involved with that."